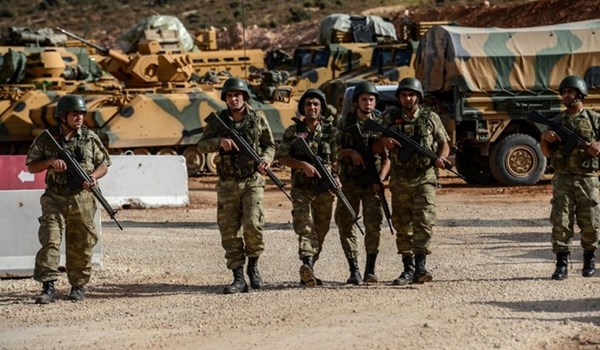 People in Northern Aleppo are demanding the occupying Turkish forces to leave the region as tensions and insecurities have sorely increased in the region.
The Kurdish-language Hawar News reported on Friday that people in Northwestern Aleppo, specially Jarablus, al-Bab, A'azaz and Afrin regions, are growingly calling for the withdrawal of occupying forces.
The report said people are printing graffiti on walls and hold sporadic protest rallies to call for the Turkish army's retreat.
It added that the local people are furious with exacerbating security conditions resulting from increasing infighting among the Turkish army and their affiliated militants as well as their attempts to blackmail the civilians.
Meantime, the London-based Syrian Observatory for Human Rights (SOHR) reported that the Ankara-affiliated militants fighting under the Euphrates Shield operations are dissatisfied with their low salaries paid by Turkey.
The report came after sources said earlier this month that the Turkish army has looted the artifacts and archeological monuments of Syria's historical sites in Afrin region in Northwestern Aleppo.
Turkish teams equipped with excavation instruments were excavating for artifacts in Jandaris hills in Afrin region, the SOHR quoted informed sources in Southwestern Afrin as saying.
The SOHR noted that the Turkish Army, meantime, had blocked all roads to the region, and said that another excavation operation is underway in Ma'abali region in Western Afrin and Ali Aisheh and Tal Zarafkeh regions.
This comes as plundering of civilians' assets and abducting them as well as receiving heavy taxes by the Ankara-backed militants are still underway in Afrin.