Syria
People of Raqqa Set Fire at US-Backed Forces' Bases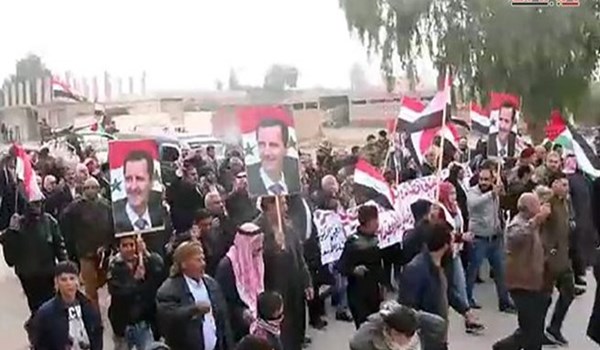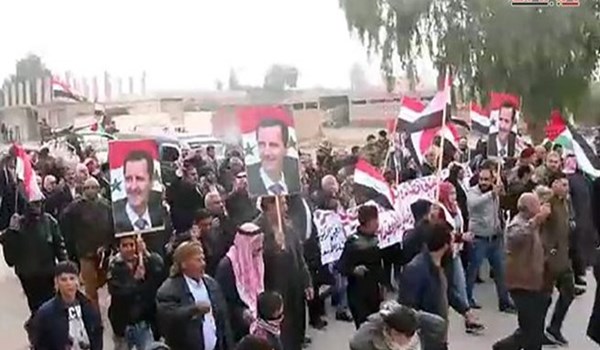 The people of Raqqa in Northern Syria poured to the streets to protest at the US-backed Syrian Democratic Forces (SDF) moves in the region, setting fire at a number of their bases.
Media activists in Raqqa reported on Thursday that hundreds of residents of the town of al-Mansoureh in Southwestern Raqqa staged massive protest rallies against the SDF and set fire at some of their checkpoints and bases in the town.
They added that the protest rallies were held after a young resident of the region was killed by the SDF during forced recruitment operations.
The sources said that similar rallies were also held in the towns of Hanideh, al-Safsafeh and Mazra'at al-Safsafeh region, adding that the residents surrounded the US-backed forces' strongholds.
Meantime, the SDF sent a large number of forces and military equipment from Raqqa city and the town of al-Tabaqah to al-Mansoureh, wounding a number of civilians with bullet fire to disperse the angry crowd.
Residents of Raqqa and Hasaka have many times held uprising against the US occupiers and their allies in Raqqa region.
Also, last month, a large number of people poured into the street in a key town in Northeastern Hasaka, calling for the withdrawal of the US and Turkish troops and their allied militants from their region.
SANA reported that a large number of civilians, social activists and parties in the town of Qamishli took to the streets, opposing occupation of the region by the US and Turkish troops.
It further said that the protestors condemned a visit by the former French Foreign Minister to al-Jazeerah region controlled by the SDF, calling for independence of the Syrian parties from the US policies and asking for their affiliation to Damascus again.
The protestors, also, opposed US forces' illegal bases and presence of militants, affiliated to Turkey and the US, in Syria as a violation of international law and against Syria's national unity and integrity, SANA said, adding that the protestors called for expulsion of the occupiers and their allied militants from Syria.