Middle East
Syria
Persistence of terrorist control over Idlib endangers civilian lives: Iran UN envoy
Iran's Ambassador to the UN Majid Takht-e Ravanchi has warned that continued terrorist presence in the Syrian territory is endangering civilian lives.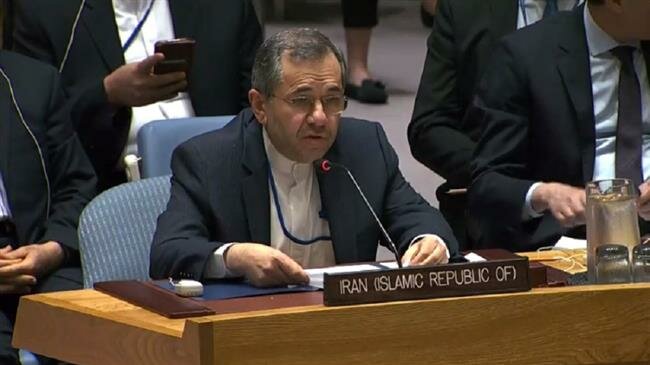 "Should the government allow these internationally designated terrorist groups continue their control over its territory? Should the international community allow such terrorist groups to take a large number of civilians as their hostage?" he said during a United Nations Security Council meeting held on Friday over a recent surge in fighting in northwestern Syria.
The meeting was held amid a recent escalation in clashes in the province after the Syrian Arab Army launched an operation to counter numerous flagrant terrorist violations of an earlier de-escalation agreement.
Syrian army takes Takfiri targets in Idlib under heavy fireThe Syrian army unleashes heavy fire on targets belonging to the so-called Jabhat Fateh al-Sham in Syria's east to retaliate the terrorist group's attacks.
Under the agreement, which was signed between Russia and Turkey last year, Takfiri groups in Idlib had to withdraw from areas bordering Syrian government-controlled territory, which they refused to do.
Speaking on Friday, Takht-e Ravanchi said that Iran continued to support the Idlib de-escalation agreement, saying that the deal was necessary to protect civilian lives but warned that it should not become a pretext to create a safe haven for terrorists.
The deal "does not limit the right of the Syrian government to fight Security Council-designated terrorists, which of course have to be carried out in accordance with international humanitarian law," he said.
The Iranian envoy described the current situation in Idlib saying that the terrorist groups are using "over two million civilians as human shields".
"This is in contradiction with the objective of the Idlib de-escalation area's creation. We should be vigilant enough not to confuse the protection of civilians with the protection of terrorists," he added.
Takht-e Ravanchi concluded that any solution for the Syrian crisis had to be reached through a "Syrian-led and Syrian-owned, UN-facilitated political process", as agreed in a joint statement issued by Iran, Russia, and Turkey in April.
Iran, Russia, Turkey 'determined' to fight terror in SyriaMoscow says there is a "determination" among Iran, Russia, and Turkey to continue fight against terror in the war-torn Syria.
Also speaking at the session, Syria's UN ambassador Bashar al-Ja'afari called for a halt of foreign support for terrorists operating in the province.
"Ending the suffering of Syrians in Idlib requires stopping hypocrisy and politicization and investment in terrorists and manipulating peoples' destinies and lives," he said.
Russia's envoy to the UN, Vasily Nebenzya blamed the al-Qaeda-linked Tahrir al-Sham terrorists for the recent increase in fighting and rejected accusations of violating international law.
"Neither the Syrian army nor Russia's aerospace force conduct any combat operations against civilians and civilian infrastructure. Our target is terrorists, which in fact some of you opt not to mention," he said.

Nebenzya added that certain countries were trying to protect foreign-backed terrorists in the province.