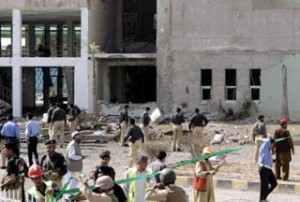 At least eleven people, including a local mayor, have been killed and 30 others wounded after a bomb blast in Pakistan's restive northwestern city of Peshawar, security officials say.
The officials said that a bomber blew himself up in a livestock market in Matni area of Adizai in south Peshawar on Sunday.
Local mayor Nazim Abdul Malik, who was in the market, has lost his life in the bomb blast, the news reported.
Pakistani militants have recently stepped up anti-government campaigns in the aftermath of the country's offensive on their mountainous sanctuaries in the South Waziristan province.
The militants seek to demoralize and weaken security forces and civilian resistance in the urban areas of northwest Pakistan in an attempt to destabilize Pakistan cities overlooking the tribal regions where militia groups operate, authorities say.
Meanwhile, in his Friday speech to a number of parliamentarians, Pakistani President Asif Ali Zardari warned against complacency in the war against the country's militants and said, "The fight against militancy … is a long and tough battle as we have to not only fight the extremists, but also the extremist mindset."
On the other side of the conflict, some Pakistani tribal leaders have called for the discontinuation of raids against the militants, which they concur happens 'with the consent of America.'
The militants have killed over 300 police officers and civilians and also maimed hundreds of others over the past several weeks in retaliation for the ongoing government raid on their positions.