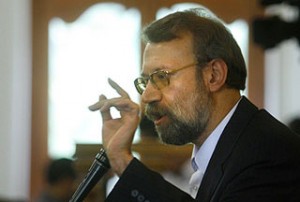 Iranian Parliament Speaker Ali Larijani on Wednesday warned Persian Gulf States against turning into a launch pad for a US attack on the Islamic Republic.
Larijani, who was speaking at a news conference in Kuwait, said Tehran expected regional countries not to allow the US to use their territory against Iran.
"Regional bases should not constitute a base for animosity towards Iran," Larijani said in response to a question about the possible financial consequences awaiting regional countries if Iran decides to close the Strait of Hormuz in the event of a US military attack on the country.
The Strait of Hormuz, a narrow waterway between Iran and Oman, connects the Persian Gulf with the Sea of Oman. Nearly 40 percent of the world's crude oil passes through this waterway.
Iran has warned that it will close the strategic passage, should it come under an attack from the US. Tehran says any act of aggression against Iranian territory will be met with a crushing response.
Larijani, however, reiterated that Iran posed no threat to the region and did not want to inflict damage upon regional countries. He added that the main source of threat in the region was Israel not Iran.
Bahrain, Qatar and Kuwait, all among the Persian Gulf littoral states, are home to major US military bases.