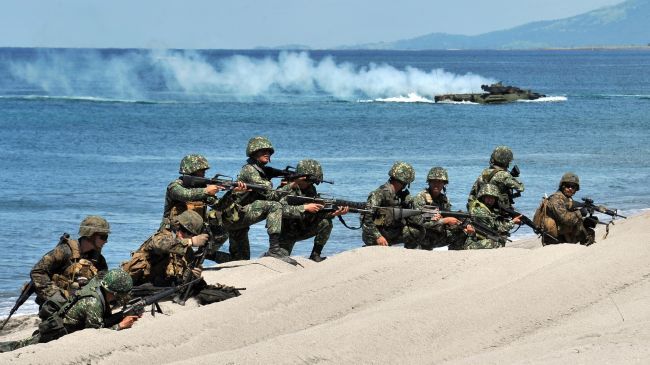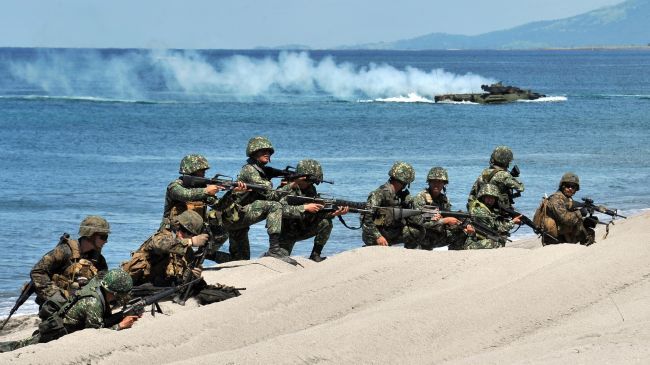 The United States and the Philippines have launched mock assault drills on a South China Sea beach amid rising tensions between Manila and Beijing.
In the drills, dubbed Balikatan (shoulder-to-shoulder), 40 US and 80 Filipino Marines attacked a mock enemy tent before retreating to their rafts in Zambales Province on Friday.
The exercises included amphibious operations from the coastline, practicing stealth landing and troop deployment at a nearby beach.
The US Marines said the maneuvers are meant to boost training and other capabilities.
Armed Forces of the Philippines Balikatan co-director Lieutenant Annaleah Cazcarro, said the training was "just an exercise which enhances us to be more effective," and not related to tensions in the South China Sea.
Meanwhile, over 5,000 American and Filipino forces are taking part in joint annual war games over a two-week period.
The drill was set to be held in military camps in the northern and western Philippines. It includes maritime surveillance exercises, live-fire drills, training on handling bombs and "mass casualty response."
The exercise comes as tensions between China and the Philippines have been increasing over maritime and territorial disputes in recent months. The two countries have competing claims over a number of islands and shoals in the South China Sea.
The US and the Philippines have recently signed an accord that would give the American military greater access to bases across the Southeast Asian nation.
Observers believe America's efforts to increase its presence in the region are aimed at containing China.
Beijing has already demanded that Washington stay out of regional disputes. But US President Barack Obama insists the new military pact is not designed to counter China in the region.