Iraq
Middle East
Photos: Firefighters battle flames in Iraq's Qayyarah oilfields: Pictures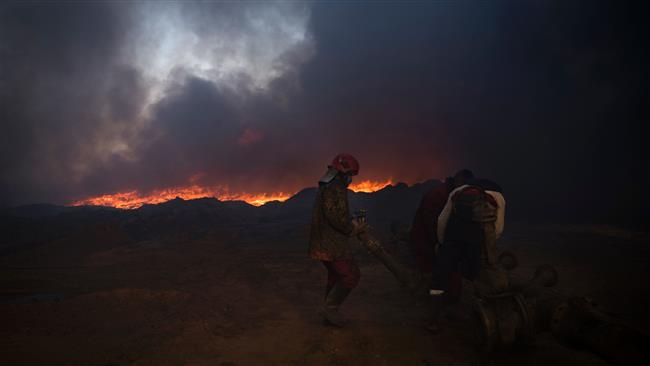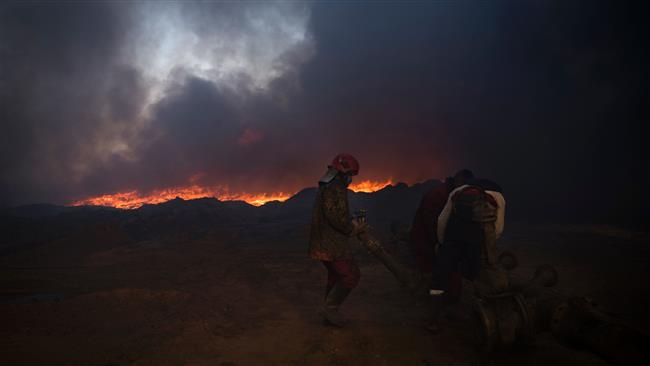 See pictures of courageous Iraqi firefighters battling to extinguish burning oil wells set on fire by retreating Daesh terrorists.
In the pictures taken on Sunday, the firefighters wearing red helmets can be seen desperately pumping water on the wells close to the small Iraqi town of Qayyarah, located some 60 kilometers from Mosul.
Teams of firefighters and engineers have been working around the clock since August when the terrorists set the region's oilfields alight to hinder the progress of Iraqi troops coming to liberate Mosul.
The burning wells have been belching out flames and black smoke for some three months as putting them out has proved to be a demanding and dangerous task.
"First, the federal police have to check for mines left by Daesh at the mouth of the oil wells," said Saleh Khodr Ahmad, one of the firefighters.
He noted that after the area is cleared and the fire brought under control, firefighters "place a pipe into the mouth of the well to pump water in, and cover it with dirt."
He added that the whole process is very time consuming and can take over a month to complete. "I'm exhausted, my body has been destroyed," Ahmad added.
The UN has stressed that crude oil flames can "produce a wide range of pollutants, including soot and gases that cause health problems such as skin irritation and shortness of breath."
Fire trucks and ambulances are always standing by at the wells, said a police officer charged with guarding the site.
"The ambulances are here to treat the cases of suffocation and any injuries from explosives," said Ismail Ali Mohammed. He added that one of his colleagues was killed on Saturday after he stepped on a mine."I've been here 15 days, working 24-hour shifts. We've all been poisoned by this smoke."
Iraqi forces advancing steadily in Mosul
Meanwhile, Iraqi forces are pushing on with their operations to liberate Mosul, but are being hampered by terrorists sniper fire and suicide bombers as well as safety concerns for the civilians still living in the city.
According to Major General Sami al-Aridi, special forces are currently engaged in home to home sweeps in regions taken from the terrorists, trying to defuse explosive traps. He added that these operations are usually carried out under militant mortar and sniper fire. "The biggest hindrance to us is the civilians, whose presence is slowing us down… We are soldiers who are not trained to carry out humanitarian tasks," he added.
After months of preparation, Iraqi army soldiers, backed by pro-government fighters from Popular Mobilization Units and Kurdish Peshmerga forces, launched an operation on October 17 to retake the strategic city of Mosul from the Daesh terrorists.
Daesh revenge in liberated areas
Residents of several areas liberated from Daesh in the Nineveh province, where Mosul is located, say the terrorists are bombing and shelling the villages for their cooperation with Iraqi forces.
"The remaining Daesh militants are attacking the liberated area from other areas that still controlled by them," a local was quoted by Iraq media as saying.
Daesh stealing own members organs
According to a report by Alsumaria News on Sunday, the Daesh terrorist group is removing the organs of civilians and its members, who are injured and transferred to hospitals, and then selling them to international gangs.
"Dozens of human organs were stolen from civilians and bodies that were transferred to the forensic medicine department, and then transferred through mediators to Syria then to human organs traders," said the report.
It added that a special Daeshi team stole the organs of 85 militants from various hospitals across Nineveh and transferred them to a medical facility located on the outskirts of the city.
"The group lost the majority of its funds, especially crude oil that provided 80% of the total income of the terrorist group, so it started to trade in human organs to revive its finances," said the report.