Africa
Photos- Free Zakzaky Protest by Women and Children in Nigeria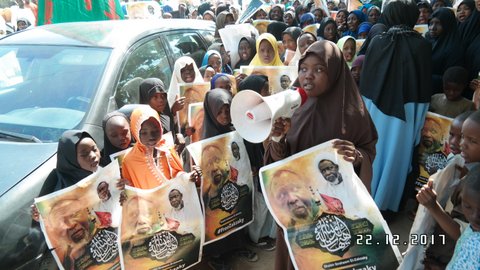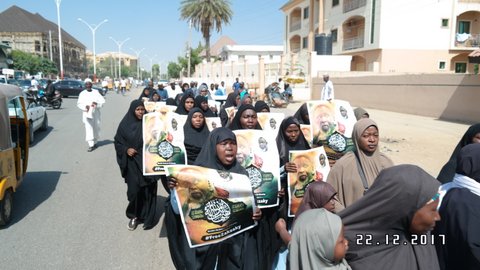 Sisters of the Islamic Movement in Nigeria under the leadership of Shaikh Ibraheem Zakzaky (H) staged a protest on Friday 4th Rabiul Thani 1439  (22/12/2017) in Kano demanding the immediate release of Shaikh Zakzaky (H) and his wife Malama Zeenatuddeen Ibraheem.
Sisters of the Islamic movement, widows, children and orphans conducted a peaceful protest march voicing out their calls and condemned the atrocities of Nigerian army on Shaikh Zakzaky (H), his family and followers during the December 12-14th, 2015 Zaria massacre. They started right from court road, in Kano municipality to the office of the National Human Right Commission, Kano situated opposite Mal Aminu Kano Teaching Hospital.
At the National human right, Kano office, Malama Maimuna Abdullahi submitted a paper and also verbally voice out the complain of the protesters, calling for the immediate release of its leader Shaikh Ibraheem Zakzaky (H) and his wife who had been held in detention despite Justice Kolawale's court order of December, 2016 for his release with compensation and some other pledges.
The resident officer of the National Human right commission, Kano office in his response, said their office can only receive complains and forward it to Abuja head office and reiterated they have been submitting the complains of the movement on the December Zaria Massacre and would do the same hopping it will be well treated.
Malama Maimuna and the resident officer gave a brief speech to the protest marchers and a closing prayer from Malama Maimuna ended the peaceful march.
Source: islamicmovement.org