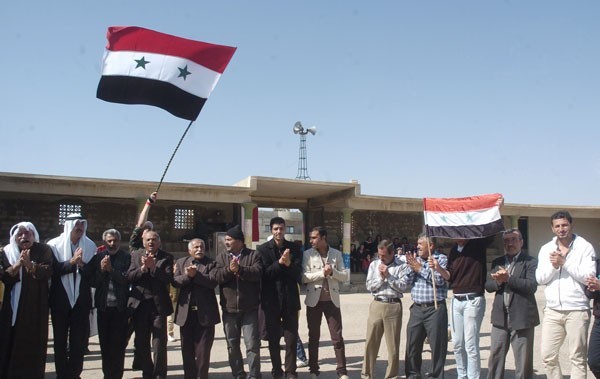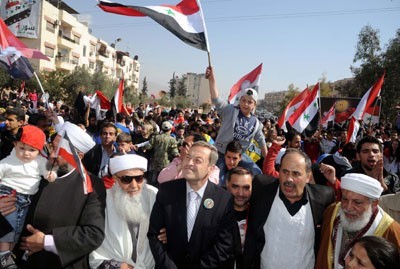 With unflinching determination and undeterred by conspiracies and terrorism, the Syrian people continue to pour into the streets of cities and towns to show undiminished support for the Syrian army and the national firm principles.
Thousands of citizens gathered in Dahiat al-Assad in Harasta on Saturday to express support to the Syrian army, chanting slogans that express commitment to the homeland's principles and allegiance to the blood of martyrs.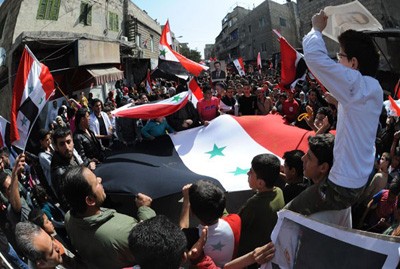 Chairman of the executive office in Damascus countryside, Rateb Adas said the massive gathering in Dahiat al-Assad "bears special meanings due to the diversified social fabric there."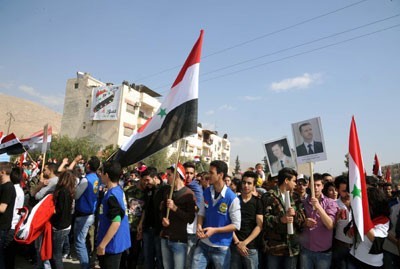 He added that the daily popular rallies in Damascus countryside "would bring the crisis closer to its end and accelerate the reconciliation efforts through creating an atmosphere of security."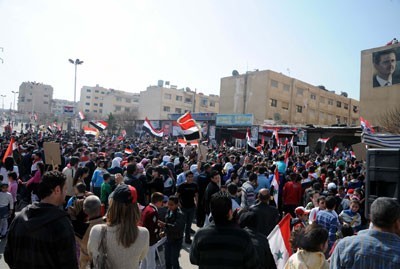 Ghassan Saqr, one of the rally's organizers said the rally is a popular endorsement of national principles, affirming that the Syrian people will continue to support their army "until their last breath."
Popular figures came from al-Midan and al-Shaghour neighborhoods to join the rally in Dahiat al-Assad.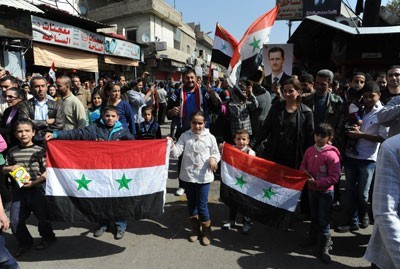 Citizens in Damascus affirm allegiance to national principles
Citizens in al-Dweil'a, al-Kabbas, Kashkoul, al-Dukhanieh and Jaramana camp for Palestinian refugees took to the streets in al-Dweil'a, waving Syrian flags and raising banners that embody the unity among the Syrian people.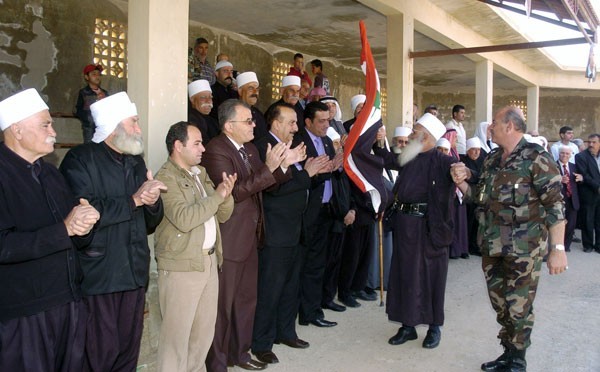 "Syria is the land of peace and divine religions, and this diversified fabric in Dweil'a draws a picture of Syria in miniature no matter how the West tries to spew its poison," Sheikh Ibrahim al-Sheikh Hamada, who took part in the rally, affirmed.
The participants expressed appreciation for the achievements of the Syrian diplomacy in Geneva 2 conference.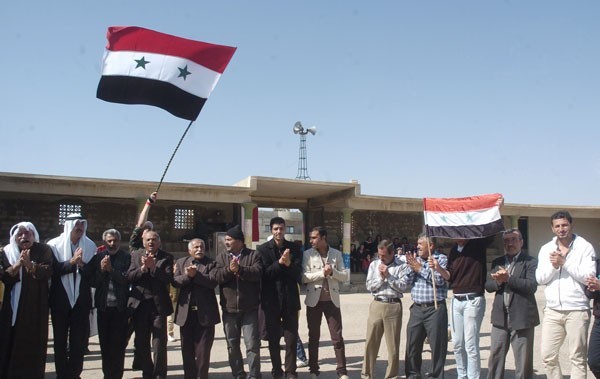 Rally in Sweida stresses on Syria's independent national decision
One such gathering took place in Sweida province and specifically in al-Soura al-Kabira village with the participation of various civil, religious and youth figures.
The participants in the event voiced strong support to the Syrian army personnel who are fighting the fiercest battles against the armed terrorist groups.
They chanted national slogans and songs that express their high sense of patriotism and their rejection of any foreign interference in Syria's internal affairs.
The participants affirmed that their commitment to the Syrian national independent decision is unshakable, vowing their readiness to make all necessary sacrifices to confront and overcome the conspiracy hatched against the homeland.