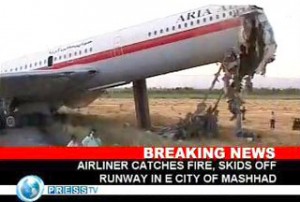 Tourists cancel trips to Iran as the number of plane crashes soar, inflicting a heavy toll on the country's tourism industry.
Travelers are canceling trips to Iran over the recent plane crashes that have killed at least 185 people in July, making it the worst month in the aviation history of the country.
On July 15, a Tupolev plane went down in northwest of Tehran, near the city of Qazvin with all 168 passengers and crew on board confirmed dead. The Caspian flight 7908, bound for Yerevan, Armenia, crashed 16 minutes after takeoff from Tehran.
Less than 10 days later, on July 24, at least 17 people were killed and 21 others injured when an Ilyushin Il-62 jet crash-landed in the northeastern city of Mashhad.
Travel agents and airlines have reported a sharp drop in business amid growing concerns about flight-safety.
"The crashes entail insecurity in the Iranian airlines and discourages foreign tourists from coming to Iran," Mohammad Ali Vaqefi, member of the board of directors of Iranian tour operators, told ISNA news agency.
"Tourists would rather use cars and buses if there are any ground-transportation alternatives for the tourism destinations offered to them," he said.
"The country's tourism industry has faced serious harm. The recent train accident in Tehran also left no room to recover the damage."
On July 25, at least three people were killed and two others injured when a passenger train slammed into another on the outskirts of Tehran.
Iran says that the US sanctions on its aviation industry is partly to blame for the disastrous incidents.