Syria
PM: Terrorist crimes target all elements of Syrian state, national economy still balanced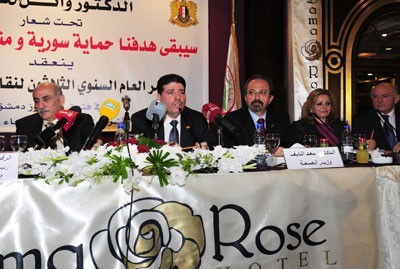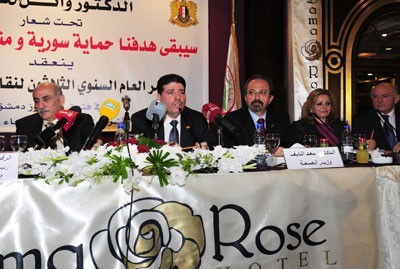 Under the theme "Our Goal will Remain Protecting and Developing Syria", the 30th annual general conference of the Doctors' Syndicate was held on Wednesday to discuss all issues related to medicine.
Prime Minister, Wael al-Halqi, stressed during the opening ceremony of the conference the importance of such conferences in developing and activating the role of syndicates, pointing out that holding this conference under the current circumstances underscores the state of recovery being witnessed in the country through the return of security and stability to Syria.
He hailed the role of doctors in confronting the fierce war launched against Syria through their participation in all spectrums of life and offering medical services to all citizens with no exception.
The Prime Minister noted that the crimes of the terrorists are targeting all elements of the Syrian state, but the Syrian Arab army confronted the armed terrorist groups which came from 83 countries.
He reiterated Syria's stance to go to Geneva 2 conference with no preconditions and proposing all ideas on the dialogue table.
As far as the national economy is concerned, al-Halqi stressed that the economic and service structure has been the target of systematic sabotage, particularly the communications sector, optical cables and electricity, in addition to the oil sector causing Syria to become an oil-importing country.
He added that the Syrian government pays USD 300 million every month to import oil derivatives to meet the needs of citizens.
The Prime Minister asserted that in spite of the major losses, the national economy is still balanced.
Al-Halqi added that the national textile industries is exporting products to a number of foreign companies, noting that the latest contracts were signed last month during Syria Mode Fair valued at USD 50 million.
Syria had 118 government industrial companies, and the armed terrorist groups sabotaged 66 companies of them and only 8 of them are running in full capacity, al-Halqi said.
As for the private sector, al-Halqi added, there were over 113 thousand professional workshops and over 65% of them were looted, destroyed or sabotaged causing the industrial sector to lose SYP 342 billion in all.
Head of the Doctor's Syndicate, Abdul-Qader Hassan, said in a statement to SANA that the conference would deal with several issues, including means of limiting the migration of doctors from Syria.