Europe
World News
Poland's ruling party wins absolute majority in lower house of parliament
Poland's ruling ultra-conservative party has won the country's general elections, securing an absolute majority in the lower house of parliament four another four years, partial results show.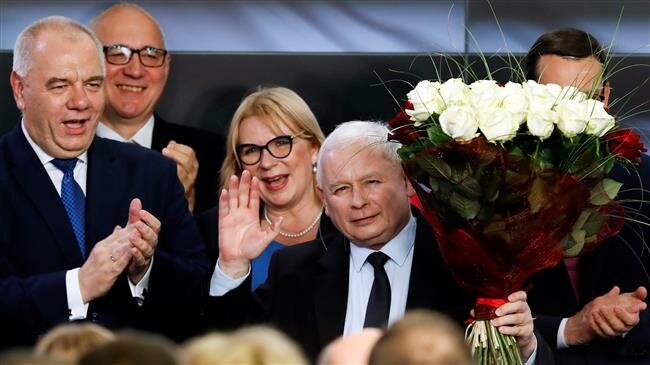 The Law and Justice (PiS) party garnered 44.6 percent of votes, according to official results from 91 percent of constituencies published by the electoral committee on Monday.
This gives PiS 239 seats in the 460-strong lower house of parliament.
"We have victory," PiS leader Jaroslaw Kaczynski told supporters at party headquarters in the capital Warsaw.
"We have four years of hard work ahead. Poland must change more and it must change for the better," he added.
The country's biggest opposition grouping Civic Coalition (KO) has come second with 26.7 percent of the votes, according to the results.
It was followed by the leftist alliance, The Left, with 12.3 percent.
More results are expected later in the day, the committee said.
The results of the vote for the upper house of parliament, the Senate, were still unclear.
An overall majority in the lower house of parliament would give PiS a strong mandate to continue its reforms of the justice system besides media and cultural institutions despite opposition from the European Union (EU).
The EU ordered Warsaw last year to halt the application of a law to that effect the European Commission, among other critics, said such reforms undermined the rule of law by giving the governing party control of the judiciary.
The PiS party, however, said the reforms of the judiciary system were needed to remove judges appointed during the communist era and to make the court more efficient.