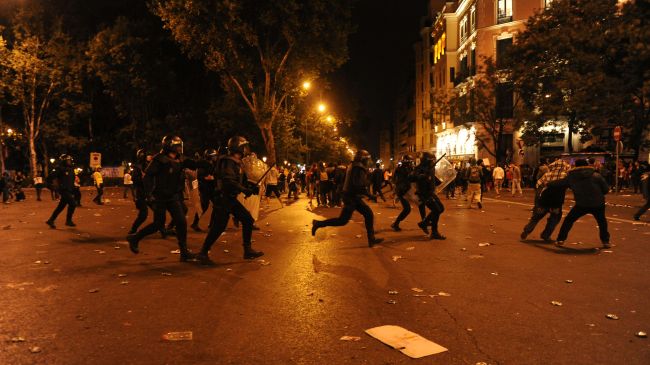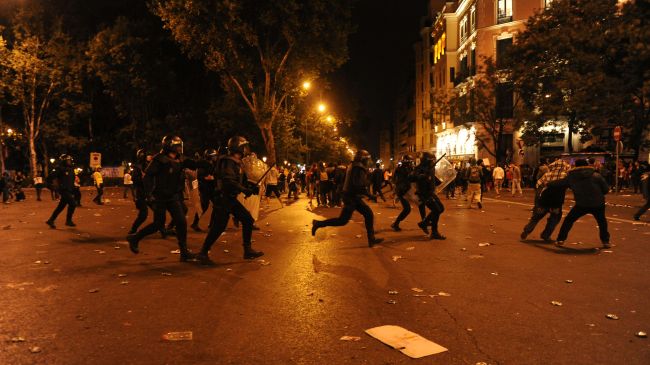 Spanish police have fired rubber bullets to break up a demonstration near the parliament in central Madrid and have arrested 22 protesters.
Late on Tuesday, the police fired rubber bullets and used batons to disperse thousands of demonstrators who had massed at the Plaza de Neptuno square near the lower house of parliament to protest against the austerity measures adopted to address the financial crisis.
The police said 22 people had been arrested and at least 32 injured, including four officers.
Television images showed police brutally beating protesters and dragging them away. Some demonstrators were bloodied as they were hauled off.
The demonstration, dubbed "Occupy Congress" by the organizers, drew an estimated 6,000 people from all walks of life tired of nine straight months of harsh economic austerity measures introduced by Prime Minister Mariano Rajoy's government.
"My annual salary has dropped by 8,000 euros and if it falls much further I won't be able to make ends meet," said Luis Rodriguez, a firefighter who joined the demonstration.
The Spanish economy, the fourth-largest in the 17-nation eurozone, is suffering from the aftershocks of a real estate bust that has devastated not just banks but families as well.
Battered by the global financial downturn, the Spanish economy collapsed into recession in the second half of 2008, taking with it millions of jobs. Unemployment is approaching 25 percent.
The worsening eurozone debt crisis has increased Spain's financing costs and the country is seeking a European Union bailout similar to the one Greece received.
On June 9, eurozone finance ministers agreed to lend 100 billion euros to Spain to save its teetering banks, which means more debt will be added to Madrid's already massive debt burden.
Economists say Spain has entered into a second recession. The country has imposed unpopular austerity measures and economic reforms in an effort to persuade its lenders that it is serious about decreasing its overblown deficit to 6.3 percent of gross domestic product in 2012 and 4.5 percent in 2013.