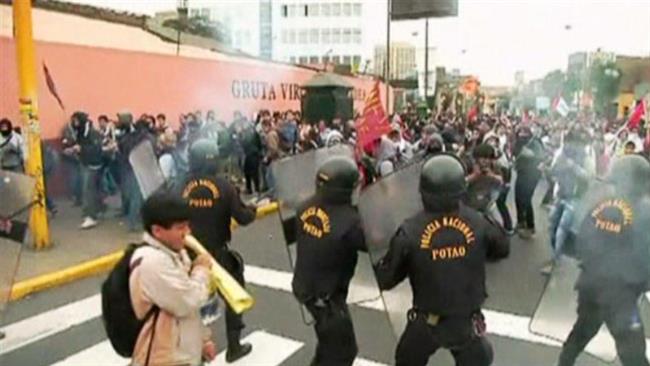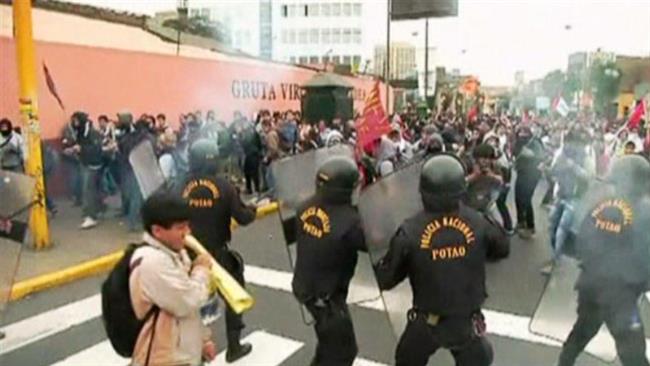 Peruvian police have clashed with a group of protesting students angered by allegations of corruption in the country's universities.
The riot police on Monday blocked roads leading to the Congress in the capital, Lima, firing tear gas to prevent the students from marching on Peru's legislative body.
The protesters reportedly threw rocks at police officers during the clashes.
The students described the police tactics as heavy handed, saying several activists were injured in the scuffles.
"I'm not the only one. Various of my fellow students have been injured by bullets, by tear gas, and it's unfortunate because instead of defending the public the police are suppressing them hard. We are stating our rights," said Johnny Rojas, a student who took part in the protest.
National Federico Villarreal University students are angry over what they call vote buying and corruption in a list of university officials named by the National Higher Education Superintendent's Office (SUNEDU).
The students say the university officials do not accurately reflect the people for whom they voted earlier this year.
The SUNEDU was scheduled to hold new poll and release a new list of names on Monday, but it has failed to meet the deadline.
Judy Gamarra, another protester, said the students have been demonstrating for months, urging a halt to corruption and a quality public education.
"We are students. We are complaining about something that is just which is quality education, a dignified education. How is it possible that as students we have to study in classrooms with ceiling that are falling, with water passing through, leaks," said Gamarra.
Local media said officials from Peru's Comptroller General's Office will audit the National Federico Villarreal University's 2014 and 2015 expenses on Wednesday.