Iran
Police Commander: Iran to Strengthen Counter-terrorism Measures along Borders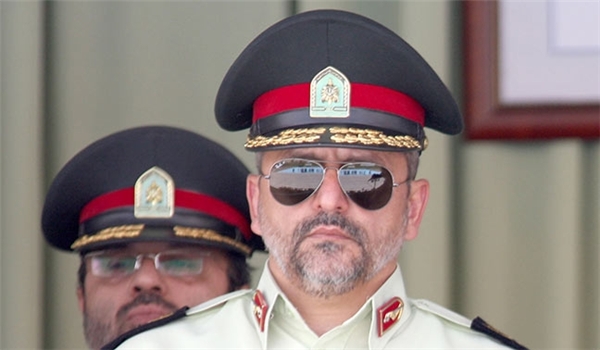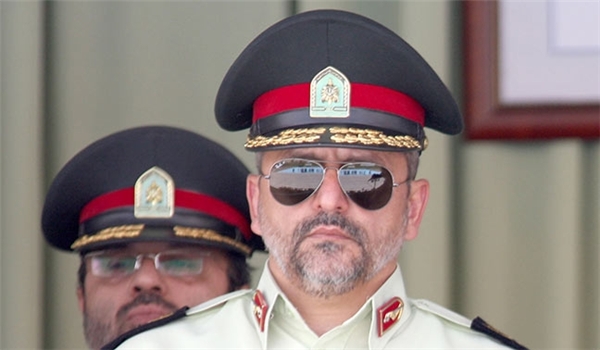 Police Chief Brigadier General Esmayeel Ahmadi Moqaddam said Wednesday Iran plans to boost counter-terrorism measures in bordering areas in the South-East, although he ensured that his forces are fully prepared to confront any enemy move all along the country's borders.
"Reinforcement of counter-terrorism teams and bomb defusing experts in Sistan and Balouchestan province is on our agenda," General Ahmadi Moqddam told reporters on Wednesday.
He noted that Sistan and Balouchestan's Law Enforcement will go under reorganization in the next two years.
General Ahmadi Moqaddam pointed to the security measures taken by Iran at the country's border regions, and said, "We have no concerns about the borders' (security) and we have taken all the needed measures."
In May, General Ahmadi Moqaddam pledged a crushing response to any terrorist who dares to threaten the country's border security, and said sealing the country's Eastern borders will soon result in major changes in the Southeastern Sistan and Balouchestan province.
"We will witness major changes and developments in this region by sealing the borders," Brigadier General Ahmadi Moqaddam told reporters in Tehran.
He pointed to the terrorist acts conducted in Sistan and Balouchestan province, and said, "We pursue any assassination and murder until resolving the problem."
Brigadier General Ahmadi Moqaddam referred to the emergence of Jeish Al-Adl terrorist group after the notorious ringleader of Jundollah terrorist group, Abdel Malik Rigi, was arrested and executed in Iran, and said, "A new terrorist group has started operation to continue Rigi's work since last year and it has committed murders in the Southern parts of the country and they attack people under the cover of defending the Sunnis, while everyone knows that we are not practicing religious segregation and discrimination."
"The people of that region are not happy" with the terrorist group's operations either, "because insecurity halts progress and advancement", he added.
Earlier this month, senior Iranian military officials said Iran enjoys such an integrated air defense system now that no enemy flying object can approach the country's border without being noticed.
"At present, every part of the Islamic Republic of Iran's airspace is connected to the integrated air defense network and the smallest movements cannot go unnoticed by the eagle eyes of the air defense base," Lieutenant Commander of Khatam ol-Anbia Air Defense Base Brigadier General Alireza Sabahifard said.
He underlined the special importance of air defense in the country's defense system, and said, "Before the Islamic Revolution in Iran (1979) air defense was limited to protecting a number of Air Force bases and some important cities, but when the Iraqi-imposed war on Iran (1980-1988) started and the enemy launched comprehensive attacks on all the sensitive and vital centers of the country, Iran's air defense grew on a daily basis to the point that now air defense units have been deployed in more than 3600 sites."