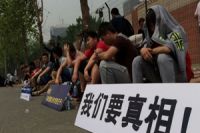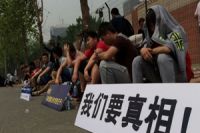 Chinese police step in to quell an argument between Malaysia Airlines staff and relatives of Chinese passengers aboard the missing Malaysian plane.
Tensions boiled over during a briefing in a Beijing hotel on Friday after Malaysian Airlines officials said they were unable to get the Malaysian Embassy to send a representative to answer questions.
"The ambassador kept saying he would come but he never showed," media outlets quoted an elderly man at the gathering as saying, adding, "And now we're going to the embassy. If they won't come to us, we will go to them."
More than 100 relatives of the Chinese passengers staged a pre-dawn sit-in outside the embassy gates on the same day. They remained camped out by the diplomatic mission more than 15 hours later.
The procession was followed closely by police squad cars.
Though vastly out-numbered by Chinese security forces, the family members continued their stubborn sit-in.
Meanwhile, Malaysia says it will likely release a preliminary report on the disappearance of Flight MH370 next week.
Experts say the search for the missing jet may continue for years as an underwater search for the passenger plane debris has failed to produce any results so far.
The Malaysia Airlines Boeing 777 mysteriously went missing on March 8 with 239 people aboard. Despite extensive search operations, nothing has been seen of the plane so far.