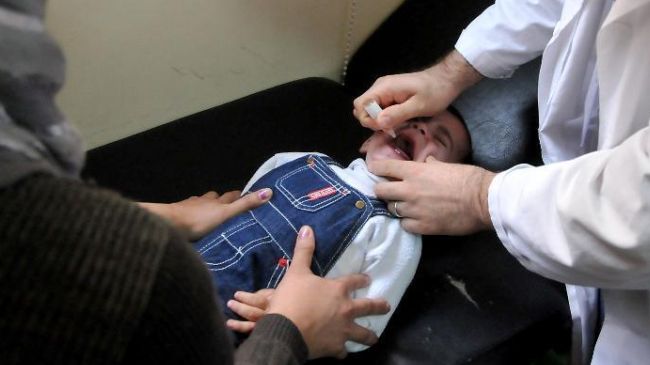 The United Nations children's fund and the World's Health Organization (WHO) have launched a campaign to vaccinate 23 million children in the Middle East after 17 polio cases were reported in Syria.
The WHO and UNICEF said in a joint statement on Monday that the campaign was the largest immunization effort in the region.
According to WHO, children in Egypt, Iraq, Jordan, Lebanon, the Gaza Strip, the occupied West Bank and Turkey will be vaccinated against polio virus, which is transmitted via contaminated food or water.
It came after 17 children were paralyzed by Polio in Syria, 15 in the eastern province of Deir al-Zour and two others in the northwestern city of Aleppo and Douma.
"Inside Syria, the campaign aims to reach 2.2 million children, including those who live in contested areas and those who were missed in an earlier campaign," the statement read.
However, the two international bodies said that many children in Syria could not be accessible due to the crisis.
"All Syrian children should be protected from disease," said Ala Alwan, regional director of the WHO, calling on all parties of the conflict "to cooperate and facilitate pauses in hostilities over the coming six months to allow vaccination campaigns to reach all children."
Almost all children living in Syria were vaccinated against the disease before the militancy broke out in 2011.
According to the United Nations, more than 100,000 people have been killed and millions displaced due to the turmoil in Syria.