Europe
World News
Polish mayor stabbed in front of live audience during charity event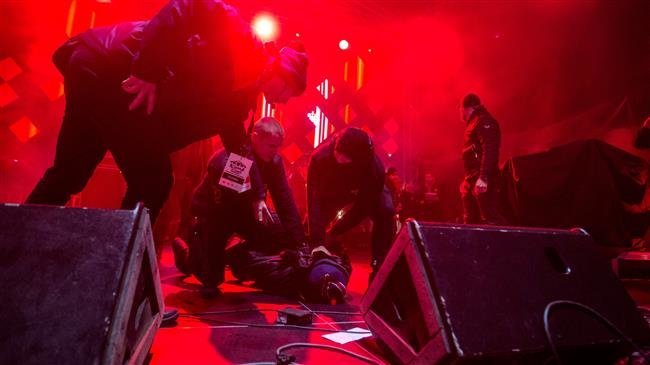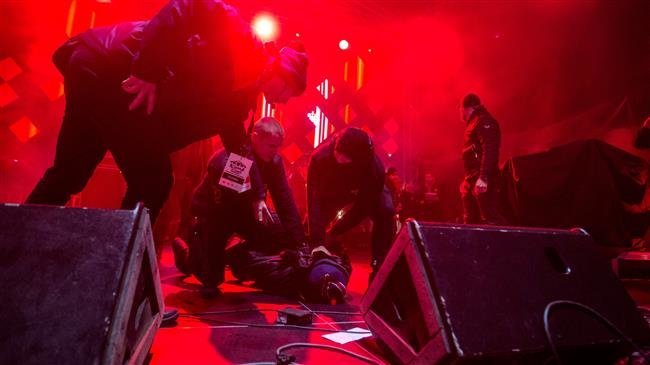 The mayor of a Polish city is fighting for his life in hospital after being stabbed in the heart and abdomen in front of thousands of people during a Christmas charity event.
Pawel Adamowicz, 53, was standing on an open-air stage and waving sparklers along with the audience on Sunday evening when a knife-wielding man burst onto the stage and stabbed him several times.
Television footage showed the assailant turning to the crowd, raising his arms in a sign of victory and shouting "Adamowicz is dead" before being arrested.
The mayor was then rushed to hospital, where he underwent five hours of surgery.
Tomasz Stefaniak, the surgeon who treated him, said Adamowicz had suffered a serious wound to the heart and cuts to the diaphragm and abdominal organs.
Doctors described his condition as "critical" and "very very serious" early on Monday.
Poland's President Andrzej Duda said he had been informed that "doctors succeeded in reanimating the heart of the seriously injured Mayor Pawel Adamowicz and there is hope, but his condition is very difficult."
Interior Minister Joachim Brudzinski called the stabbing "an act of inexplicable barbarity."
Prime Minister Mateusz Morawiecki also posted a tweet in which he said the attack on the life of Adamowicz was "worthy of the highest condemnation."
Adamowicz has been mayor of Gdansk since 1998. In the 2018 regional election, he won 65 percent of the votes.
The suspect, who is 27 years old, has a criminal record, which includes four armed attacks on banks in Gdansk.
His mental state had severely deteriorated during his time in jail, reports said.
In a video recording of the attack posted on YouTube, the suspect was seen seizing the microphone and claiming he had been wrongly jailed by the previous centrist government of the Civic Platform (PO) — to which the mayor belonged — and tortured.
"That's why Adamowicz dies," he said.
One eyewitness told broadcaster TVN that the man appeared "happy with what he had done."