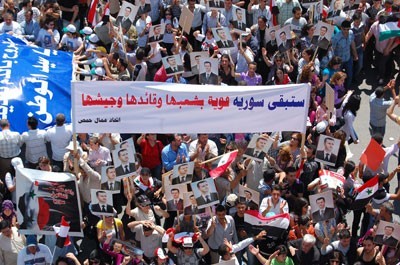 Thousands from all spectrums of the Syrian people gathered in two mass rallies across the streets of Homs city and al-Makhram city, 45 km east of Homs in support of the comprehensive reform program led by President Bashar al-Assad.

The participants indicated to the importance of preserving the national unity, stressing their commitment to Syria's stances in the face of incitement campaigns targeting its unity and stability.
They reiterated rejection of biased conspiracies and all attempts to sow sedition between the Syrian people.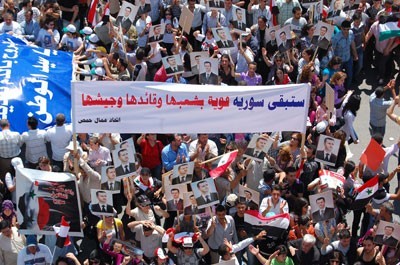 The participants gathered in front of the building of Homs Trade Union and chanted national slogans, raised flags and banners which express the Syrian people support to the comprehensive reform program.
They expressed satisfaction over the reform steps taken which meet the Syrian citizens' aspirations and represent Syria's internal stability to improve the social and economic situation of the Syrian people.
In the same context, two tents were set up to be the gathering place for citizens; one outside the Sports Union branch in Homs and the second in Faek Mohammad School on Homs-Damascus Road. The participants stressed importance of national unity in defense of coexistence in Syria and in support of the comprehensive reform program.
They chanted national slogans and raised the Syrian flag, underlining the importance of confronting the foreign conspiracy against Syria in all its forms.
In Qahtanieh, Hasakeh, a popular mass rally was organized in support of the reform process. The participants expressed rejection of the conspiracy against Syria, affirming their standing against those who seek to undermine the unity, security and stability of the homeland.
They reiterated support to the comprehensive reform program led by President Bashar al-Assad, hailing the awareness of the Syrian people and their unbreakable will in the face of all that is being hatched against Syria.
Thousands of women and children wrote phrases on a 400-meter fabric portrait during a popular rally organized in the liberated city of Quneitra. The phrases expressed trust in the inevitability of restoring the occupied Golan to Syria as they called for enhancing national cohesion and discarding sedition.
The activities were organized on the occasion of the 37th anniversary of hoisting the national flag in Quneitra.
Governor of Quneitra Khalil Mashhadieh said these activities stress the unity of the Syrian people in the face of foreign conspiracies intended to deal a blow to its honorable stances.