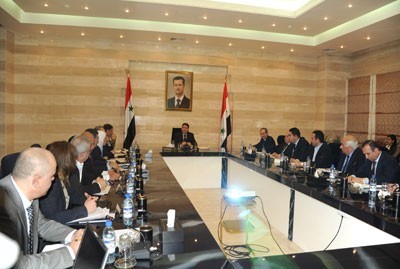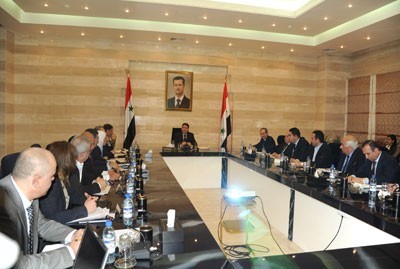 Prime Minister, Dr. Wael al-Halqi issued directives to the construction companies to speed up the establishment of housing units in Damascus countryside, Daraa and Homs, in cooperation with international organizations, for the displaced citizens returning from neighboring countries.
During a meeting on Thursday to discuss the speeding up of housing units' establishment, al-Halqi underlined the importance of undertaking prompt measures to ease the negative impacts of the crisis on the displaced and provide their basic needs.
He reaffirmed that the government is keen to provide all services to citizens as it is "a constitutional, ethical and humanitarian duty."
20140213-172340.jpg
The government is providing relief aid and services to displaced and affected citizens in 915 makeshift housing centers, al-Halqi pointed out. "These centers cannot accommodate all the internally-displaced Syrians who number up to 5.8 millions, not to mention the Syrians displaced in neighboring countries."
The Premier urged the displaced Syrian citizens in neighboring countries to return and "lead an honorable life away from exploitation and suffering in neighboring countries," vowing to provide all their basic needs and settle their legal status.
"Syria is witnessing a real reconstruction workshop at all levels, in sync with the Syrian army's achievements in the war against the armed groups and the diplomatic victories in Geneva," al-Halqi added.