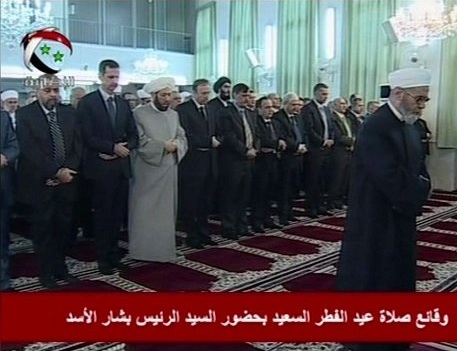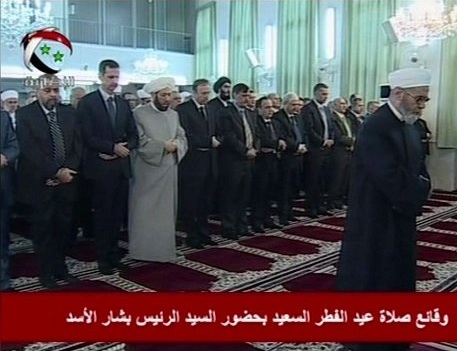 Less than an hour after the so-called Free Syrian Army claimed it had targeted a convoy for President Bashar al-Assad in Damascus, the Syrian leader refuted rumors as he appeared performing Eid al-Fitr prayers on Thursday morning.
Assad performing Eid prayers in Damascus Assad appeared in live footage on Syrian State TV as performing Eid prayers in Anas Bin Malek Mosque in the Syrian capital.
The country's Mufti Sheikh Ahmad Badreddin Hassoun appeared during prayers in front of Assad, along with other officials.
Earlier, the Saudi owned pan-Arab TV, al-Arabiya TV, reported that Assad's convoy was targeted by mortar shells.
"Assad's convoy, which was heading to perform Eid al-Fitr prayers in Anas bin Malik Mosque in Damascus, was targeted," Arabiya said early on Thursday.
It quoted General Firas al-Bitar as saying that "17 mortars targeted Assad's convoy after the opposition had secret information on his movements in al-Amaween Square located in the heart of the Syrian capital."
However, Bitar didn't verify whether Assad was wounded or not.
For his part, Information minister Omran al-Zoabi denied the attack, saying it was completely false.
"Regarding the information reported by Al-Arabiya, I can assure you that it is completely false," Zoabi told state television.
"The president arrived at the mosque driving his own car, he attended the prayer and greeted everyone in the mosque as he does every day when he meets people," the minister added.