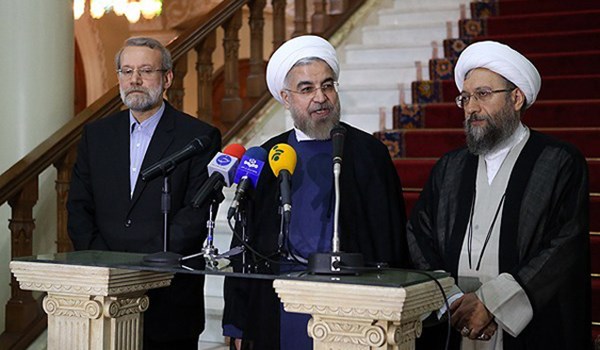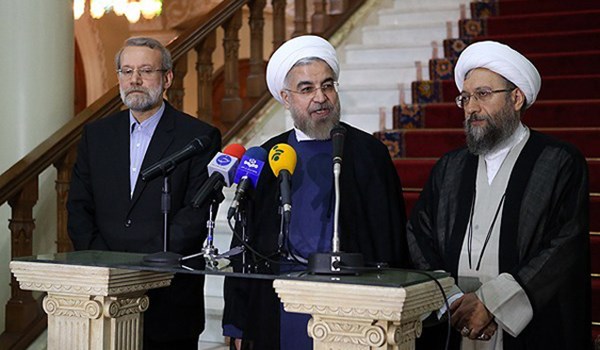 Iranian President Hassan Rouhani stressed Washington's failure to prevent his country's oil exports, expressing pleasure that crude sales have even increased after the US sanctions.
"Part of my meeting today with the oil minister pertained to a discussion of the conditions of oil sales. Thanks God, we are in suitable and good conditions. The Americans wanted to prevent our oil exports and I clearly tell people that our oil exports have improved after November 4 (the day US imposed oil sanctions against Iran) compared to the past," President Rouhani said after a joint meeting with the parliament speaker and the judiciary chief in Tehran on Tuesday.
He stressed Americans' failure to block Iran's oil supplies, and said they also made attempts to dissuade OPEC members from decreasing production but they failed.
"Our oil sales will stay the same course that it was before this (OPEC) meeting," Rouhani said.
Early in November, Governor of Central Bank of Iran (CBI) Abdolnasser Hemmati said that the US had failed in its efforts to cut Iran's oil revenues to zero with sweeping sanctions, while the country was ready to combat even worse conditions.
Hemmati made the point posting a message on his Instagram page, underlining that it was no secret any more that the US had failed to carry out its earlier threats to push down Iran's oil sales to zero under various pretexts.
"The Central Bank of Iran has developed various plans to cope with the worst-case scenarios after the second round of the US sanctions is carried out. Meanwhile, we have managed to build up our foreign exchange reserves over the past months," he said.
According to Hemmati, the Central Bank of Iran had been focused mainly on stabilizing foreign-exchange market over the past few weeks through promoting Iran's national currency.
"I'm sure that the great Iranian nation will leave behind successfully the current volatile situation. We are now developing new plans to restore balance to the market and prevent from further inflation," he noted.
Also last month, Iran's new Economy Minister Farhad Dejpasand downplayed the US November-4 sanctions against Tehran, stressing that his country had planned proper and effective measures to confront them.
In a related front, Iranian First Vice-President Eshaq Jahangiri assured the nation that the US November-4 sanctions would not leave any tangible impacts on the country, playing down Washington's attempts to stop Iran's oil exports.
"The government declares honorably that the US will not be able to stop Iran's oil sale," Jahangiri said, addressing a forum in Tehran.
"The Iranian nation should know that nothing will happen with the second stage of the (US) sanctions; they (the Americans) did whatever they could in the past few months and we have adopted the necessary measures (to confront them)," he added.
Jahangiri addressed the US officials, saying that the only way before them was interaction and talks without any bullying.
Also, last month, Iran's Oil Minister Bijan Namdar Zanganeh had played down US President Donald Trump's attempts to zero down Iran's crude exports, warning that his threats would only inflame the market.
"Sustainable and stable supply of the crude needed by customers is a feature of Iran and no country has the capacity to replace Iran's crude in the high-demanding global oil market," Zanganeh said.
He stressed that Iran's crude exports may not be stopped, adding, "Inflammation of the global oil market will continue until oil sanctions against Iran will be removed."
On Monday, Iranian Foreign Minister Mohammad Javad Zarif touched upon the issue before participating in a trilateral meeting with his Turkish and Azeri counterparts in Istanbul.
He downplayed the impacts of the US November-4 sanctions against his country, stressing that Washington's economic and political agenda against Tehran was doomed to failure.
"Nothing new is likely to happen on November 4 when the second phase of the (US) sanctions come into effect," Zarif told reporters.