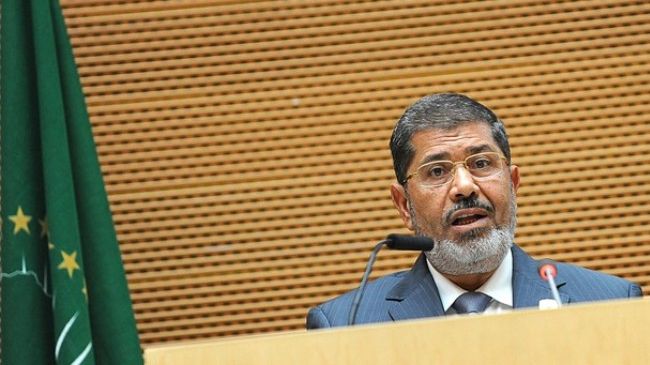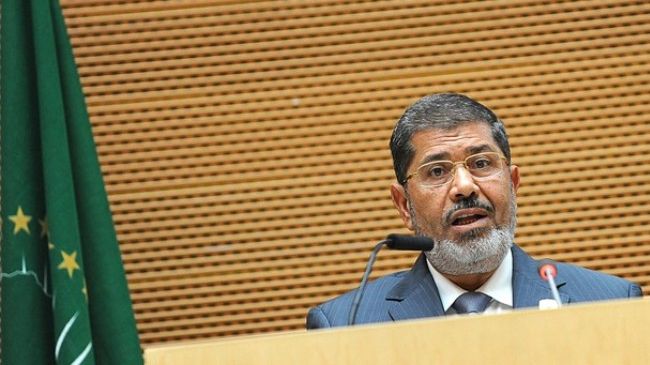 Egyptian President Mohamed Morsi has strongly opposed any form of foreign military intervention in Syria.
"We are against any military action on Syrian soil, in any shape or form," Morsi said in the Egyptian capital, Cairo, on Monday.
He stated his country seeks a peaceful solution to the unrest in Syria to help the Syrian people reach their goals of what he described as a revolution.
Syria has been experiencing unrest since March 2011.
The Syrian government states that the chaos is being orchestrated from outside the country, and that there are reports that a very large number of the armed militants are foreign nationals.
"The time has come for everyone to realize that war do[es] not achieve stability, because peace is based on justice and comprehensive peace for everyone, without any side attacking the other," the 61-year-old Egyptian leader said.
"We will never be a party to an attack on any side and we will never accept anyone threatening our security or the security of the region for one reason or another," he added.
"This statement is for everybody and on behalf of everybody, including the states of this region," Morsi noted.
Elsewhere in his remarks, Morsi claimed that the Syrian people want President Bashar al-Assad to relinquish power.
On Sunday, a spokesman for Morsi said the Egyptian president called for the formation of a regional contact group, including Iran, Saudi Arabia and Qatar to help resolve the unrest in Syria.