Iran
President Rouhani: Iran Continues Support for Oppressed Nations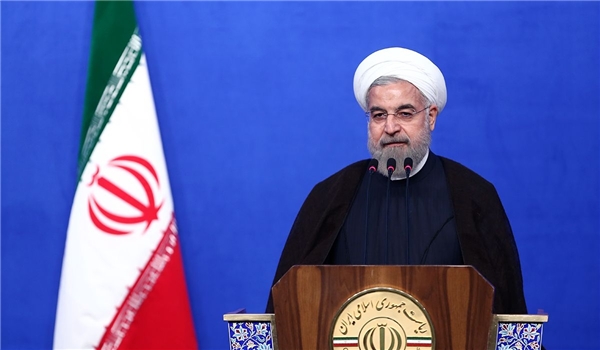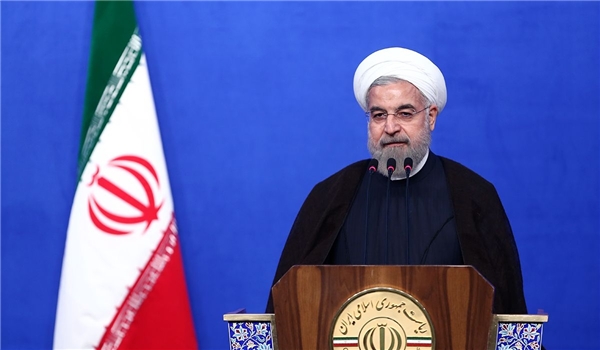 Iranian President Hassan Rouhani reiterated the country's firm decision to stand beside the oppressed nations.
"The enemy doesn't just manufacture weapons, satellites and missiles, but it also creates a mentality for the world and the region… to show Iran as a threat to the world," Rouhani said, addressing senior army and police commanders in Tehran on Saturday night.
But "the Islamic Republic of Iran is not after building destructive and unhuman weapons at all", he added.
Stressing that the Iranian Navy's presence in the international waters and the country's assistance to those regional states which have come under the terrorists' attacks and aggression are some instances of Tehran's response to the enemies' baseless allegations, Rouhani said, "The Islamic Republic of Iran sees no difference between the Shiites, the Sunnis, Yemen, Syria, Lebanon, Iraq or Palestine and we have and will always stand beside the oppressed people."
Iranian officials have always underlined continued assistance to the regional states, specially Iraq and Syria, to fight against the terrorist groups.
Earlier this month, Iranian Parliament Speaker Ali Larijani underlined that the country's assistance to the regional states, including Iraq and Syria, in fighting the terrorist groups will save future generations from death and misery.
"We fight against terrorism in Iraq and Syria today but believe that this fight will have its fruits for the future of humanity since today the problem of terrorism is not merely related to one country and is an issue related to all humans," Larijani said in a joint press conference with Speaker of the Syrian People's Assembly Mohammad Jihad al-Laham in Tehran.
He expressed the hope that the Syrian government and nation would succeed in fighting the savage and adventurous streams, and said, "Of course Iran has always helped the regional states on their path of campaign against terrorism."
Larijani voiced regret over the powerful countries' attempts to create problems for the Syrian people in the past 4 years, and said, "The Syrian people's resistance has prevented the plots of these countries from achieving their goals."
Also in February, Iranian First Vice-President Eshaq Jahangiri said that "all countries should help Iraq and Syria to leave behind their crises" and fight the terrorist groups.
The Iranian first vice-president pointed to the status quo of Iran-Iraq relations, and said, "Iran has always been beside the Iraqi government and nation; I hope the Iraqi people and government will successfully leave behind the current crisis."
Also in January, Iranian Foreign Minister Mohammad Javad Zarif renewed Tehran's full support for the Syrian government and nation in their war against the foreign-backed terrorists.
"Iran backs the Syrian government in their ongoing war against terrorism and extremism," Zarif said in a meeting with his German counterpart Frank-Walter Steinmeier in Berlin.