Iraq
President Rouhani: Iran standing beside Iraq in campaign against terrorism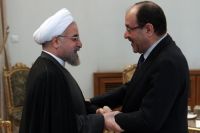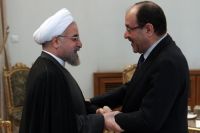 Iranian President Hassan Rouhani underscored that Tehran remains beside Baghdad in the fight against terrorist groups.
In a meeting with Iraqi Vice-President and former Prime Minister Nuri al-Maliki in Tehran on Tuesday, he said "Iran stands beside the Iraqi nation in fighting terrorism and has not set any conditions for its aids."
Expressing confidence that the Iraqi people and army are able to defend their country and there is no need for the military presence of foreign states, he said, "Safeguarding Iraq's unity and territorial integrity is important to the Islamic Republic of Iran since it is a united Iraq which can help to the establishment of stability in the region."
Rouhani said that the regional states should cooperate with each other in fighting extremism, terrorism, violence and the schemes for decreasing the oil prices.
He also appreciated Maliki for his efforts to restore security and stability in Iraq.
Iran and Iraq have enjoyed growing ties ever since the overthrow of the former Iraqi dictator, Saddam Hussein, during the 2003 US invasion of the Muslim country.