Iran
President Rouhani: Iran to Continue Talks with World Powers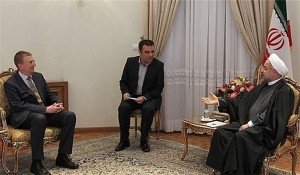 Iranian President Hassan Rouhani reiterated that Tehran's talks with the Group 5+1 (the US, Russia, China, Britain and France plus Germany) will continue until the attainment of a comprehensive final deal.
"Our negotiations will continue to access the final and comprehensive agreement," Rouhani said in a meeting with Latvian Foreign Minister Edgars Rinkevics in Tehran on Wednesday.
He underlined that Iran intends to reach a desirable conclusion and "we are confident that the other side also has the same intension".
In relevant remarks last week, Iranian Deputy Foreign Minister and senior negotiator in talks with the world powers Seyed Abbas Araqchi underlined that Tehran is determined to continue negotiations with the Group 5+1 to reach a comprehensive deal.
"The Islamic Republic is resolved to continue the negotiations since we have reached whatever we needed in the nuclear field," Araqchi was quoted as saying by Rapporteur of the parliament's National Security and Foreign Policy Commission Seyed Hossein Naqavi Hosseini on Sunday night.
"We started the negotiations as a power which has mastered and is in possession of the civilian nuclear technology," he added.
According to Naqavi Hosseini, the deputy foreign minister said that the talks between Iran and the world powers have now reached the stage of compiling a final, comprehensive agreement to settle their differences over Tehran's nuclear program.
On November 24, Iran and the Group 5+1 sealed a six-month Joint Plan of Action to lay the groundwork for the full resolution of the West's decade-old dispute with Iran over the latter's nuclear energy program.
In exchange for Tehran's confidence-building bid to limit certain aspects of its nuclear activities, the Sextet of the world powers agreed to lift some of the existing sanctions against Tehran and impose no nuclear-related sanctions on Iran during the six-month period.
The talks between Tehran and the six world powers are part of efforts to seal a final deal on Iran's nuclear energy program.
Iran and the Group 5+1 representatives had several sessions of talks in Vienna on March 18-19 and on April 8-9.
The Iranian Foreign Ministry in a statement on April 8 reiterated that its team of negotiators would not discuss any topic but the country's nuclear standoff with the West in its talks with the six world powers.
Meantime, Araqchi announced on Sunday that Iran and the Group 5+1 plan to hold an expert-level meeting in New York early in May.
He said negotiations will be held from May 5-9 on the sidelines of a session of the Preparatory Committee for the 2015 Non-Proliferation Treaty (NPT) Review Conference.
The Iranian official said the talks will take place a few days ahead of the new round of high-level negotiations between Tehran and the six countries, which is scheduled to be held in the Austrian city of Vienna on May 13.