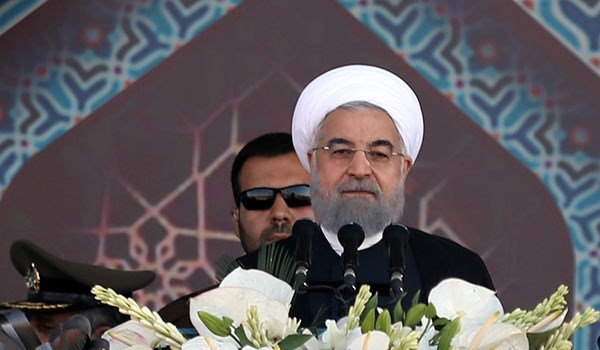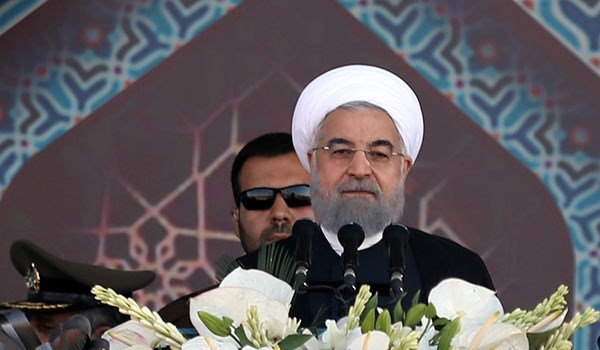 – Iranian President Hassan Rouhani underlined that his country will further bolster its military and missile power and increase support for the oppressed nations in Yemen, Syria and Palestine regardless of opposition by certain countries.
"The Iranian nation has always been after peace and security in the region and the world and we will defend the oppressed Yemeni, Syrian and Palestinian people whether you (the US and its allies) like it or not," President Rouhani said in Tehran on Friday, addressing the nationwide military parades.
"We will strengthen our military and defense power as much as we assume as necessary for deterrence and we will strengthen not only our missiles but also our Ground Force, Air Force and Navy which are supported by all Muslim people and the brave Iranians," he stressed.
President Rouhani underscored that Iran does not take permission from anyone to defend itself.
Various units of the Islamic Republic Army, the Islamic Revolution Guards Corps (IRGC), Law Enforcement Police and Basij (volunteer) forces staged nationwide parades in Tehran and other cities across the country on Friday morning.
In Tehran, the ceremony took place at the mausoleum of the Founder of the Islamic Republic, the Late Imam Khomeini, South of the capital.
The parades marked the start of the Sacred Defense Week, commemorating Iranians' sacrifices during the 8 years of the Iraqi imposed war on Iran in 1980s.
Different units of Iran's military forces marched in uniform before top Army and IRGC commanders in a show of military might and defensive power.
The ceremony was participated by senior military and government officials, including Chief of Staff of the Iranian Armed Forces Major General Mohammad Hossein Baqeri, President Hassan Rouhani as well as foreign diplomats, military attaches and reporters.
Typical units of the Islamic Republic Army, the IRGC, Basij forces and the Islamic Republic of Iran's Law Enforcement Police were present in the parades.
Foreign delegates as well as military and civilian officials were also present in the ceremony.
The latest military and defense achievements and missiles manufactured by Iranian experts were put on display at the parades.
Iran also on Friday unveiled a new home-made long-range ballistic missile system named 'Khorramshahr' which carries multiple warheads, known as Multiple Independently Re-entry Vehicle (MIRV).