Iran
President Rouhani: Iran's economy untrammeled by sanctions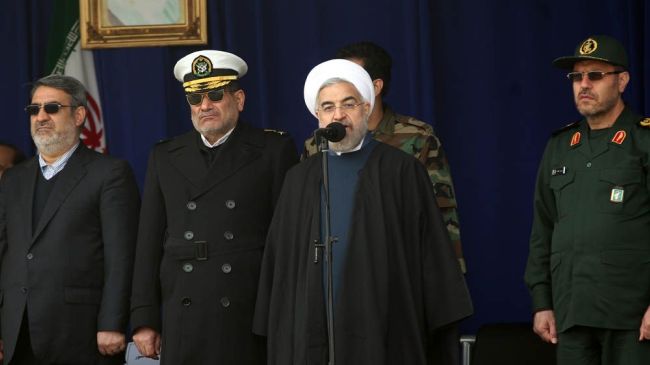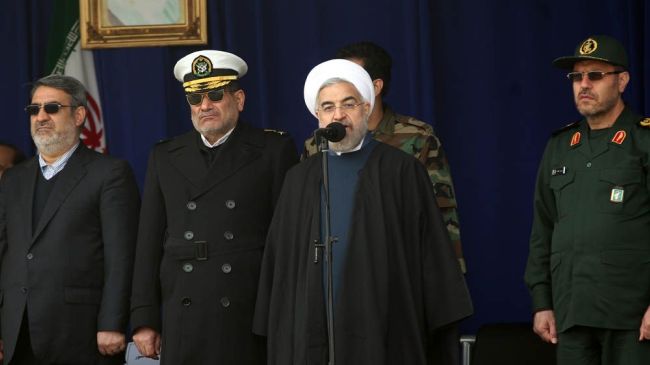 Iran's Hassan Rouhani has said that Iran's economic programs have gone untrammeled by sanctions to score positive growth rate.
President Rouhani attended in a meeting of Iran and Azerbaijan joint Chamber of Commerce and trade and business entrepreneurs of the country where he and President Ilham Aliyev discussed ways of improving economic and trade ties between the two countries.
"The meeting indicates that officials of both countries believe that more active role for both countries' private sectors is a path to develop the current level of relations; the meeting provides grounds where Iranian and Azeri investors cooperate together in securing national interests of their fellow countries," Rouhani told the meeting.
"We have learned many lessons from sanctions pressure; the first is that if a nation is resolved enough, it would neutralize the harmful effect of sanctions and forward their own economic programs stronger than ever," Rouhani said. "The national will is beyond the old subterfuges and devices in the disposal of superpowers of today and the past; a nation would even fight to find success in the face of restrictions," he asserted.
"Iran and Azerbaijan enjoy common culture, long historical cordial relations, and a common religion; these common grounds provide ample ground and opportunities for extending economic and trade relations; we support Azerbaijan in international issues, and we think that Iran and Azerbaijan are the branches of the same tree in both sides of the Araxes with long-standing ethnic links," Rouhani said.
President illustrated his case of nations of cordial ties with the example of European Union; "how a group of nations could manage to come together under the umbrella of EU while some time in the past they had been cruel enemies; they even use their unit currency; why Iran and Azerbaijan could not experience such relations," Rouhani asked rhetorically.
Rouhani also called officials of both countries not to let oil reserves in the Caspian Sea lay useless. "We should exploit the resources to serve our advancement in both countries," he suggested.
President pointed to Iran-Turkmenistan-Kazakhstan railroad to be operative in the near future and expressed hope that some time in the future, "we open Iran-Azerbaijan railroad in Astara.
Azerbaijan's president Ilham Aliyev for his part demanded more extended economic relations with Iran. "Azerbaijan has the best climate to attract investments and we welcome Iranian investors and companies," he added. "We have had long history of common political fate; our political will would not let economic relations spoiled by some countries," Aliyev asserted.