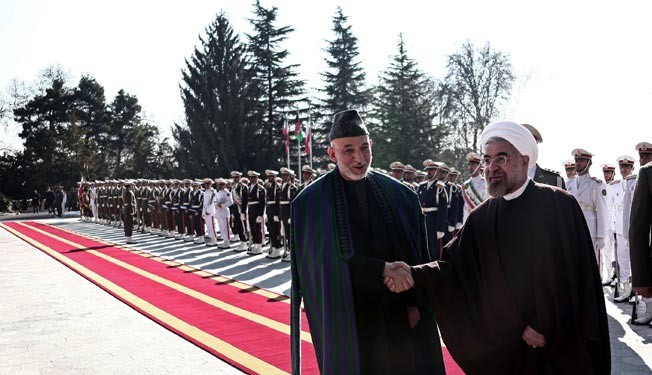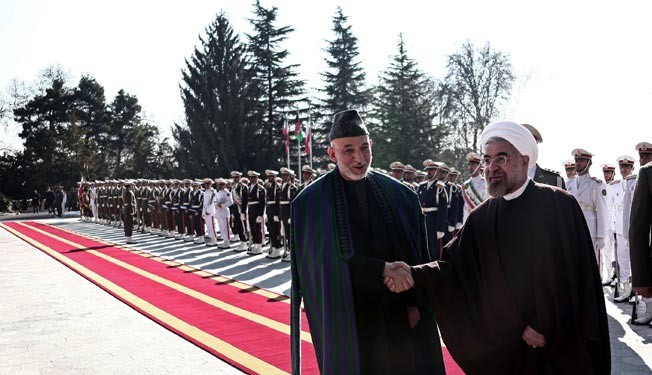 Iranian President Hassan Rouhani has officially welcomed his Afghan counterpart Hamid Karzai at Sa'dabad Palace in northern Tehran, where the two presidents are scheduled to hold their meeting.
Karzai arrived in Tehran's Mehrabad International Airport on Sunday morning at the head of a high-ranking delegation to discuss key bilateral and regional issues with senior Iranian officials and was welcomed by Iranian Vice President Mohammad Shariatmadari, Press TV reported.
The Afghan president, who is on a one-day visit to Iran, is accompanied by Chairman of Afghanistan's National Security Council Dadfar Sepanta, Afghan Foreign Minister Zarar Ahmad Moqbel Osmani, Presidential Advisor for International Relations Yahya Maroofi, Chairman of the Afghan Presidential Office Abdolkarim Khorram and Spokesman for Afghan President Emal Feizi.
The Afghan president also plans to have another meeting with Iranian Foreign Minister Mohammad Javad Zarif.
Discussion of key bilateral issues, ways of expanding mutual ties and important regional and international issues will be on top of the agenda of Karzai's visit to Iran.
Karzai also visited Iran in August to participate in Rouhani's inauguration ceremony.