Iran
Middle East
Qasem Suleimani
Syria
Videos
President Rouhani: US Deployment in Syria Destabilizing Entire Region
Iranian President Hassan Rouhani said on Wednesday that presence of the American forces in the Syrian territories has endangered regional stability, warning that they are plundering Syria's natural resources.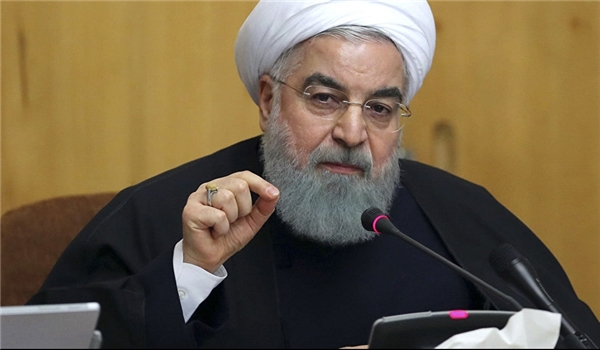 "The illegitimate presence of the occupying US forces on Syrian soil has turned into a destabilizing element in Syria and the entire region, and besides they are plundering the country's natural resources by increasing the number of their illegal military bases in Syria's oil-rich regions in Eastern Euphrates," President Rouhani said, addressing a joint video conference with his Russian and Turkish counterparts on Astana process to establish peace in Syria.
"It is necessary for the terrorist US forces to leave Syria and the entire region immediately; Syria's sovereignty will be established in all parts of the country," he added.
Rouhani also condemned Israel's aggression against Syria as well as occupation of the Golan Heights, warning that it threatens regional peace and security whose consequences will harm the occupying regime too.
Elsewhere, he blasted the US for assassination of former Islamic Revolution Guards Corps (IRGC) Quds Force Commander Lieutenant General Qassem Soleimani, saying that he was the hero of fight against terrorism in the region.
In relevant remarks in November, Syrian President Bashar al-Assad stated that the US "regime" was akin the one in Nazi Germany as the country is just stealing oil from Syria.
"The US is a state, based like any regime on gangs of bandits. The US president doesn't represent the country, he is just an executive director of a company that has its board of directors, who represent other companies that it fact own the country," Assad said.
President Donald Trump had stated in November that the United States intended to retain control over oil fields in Syria's Northeast.