Iran
Presidential elections should be held freely: Jannati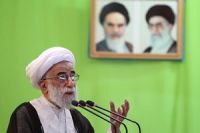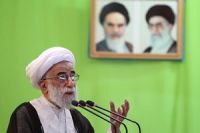 Tehran's this week Friday prayers leader Ayatollah Ahmad Jannati said on Friday that upcoming presidential elections in Iran should be held freely with participation of all political traits.
yatollah Jannati said applicants for candidacy had registered easily and freely, adding that in verifying the qualification of the applicants' political traits will not be investigated.
The registration of hopefuls for the June 14 election began on Tuesday, March 7 at Iran's Interior Ministry and ended on Saturday, March 11.
A total of 686 individuals signed up for the race.
The president of Iran is elected for a four-year term in a national election; and the Guardian Council vets the hopefuls, approving or not approving them for official candidacy.
The Iranian Constitution stipulates that presidential candidates must be religious or political figures, be Iranian by origin, have Iranian citizenship, possess managerial skills, have no criminal record, be trustworthy and pious, and have firm belief in the fundamental principles of the Islamic Republic of Iran and the country's official religion.