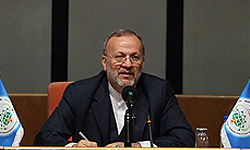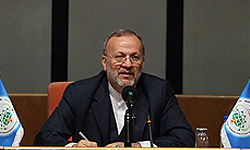 The US is not a qualified partner for talks with Tehran because it imagines that the pressure strategy works with Iran, presidential hopeful Manouchehr Mottaki said.
"Anyone who imagines that pressures can still leave impact on the Iranian people is not qualified for negotiations," Mottaki, a former foreign minister, said in the Northeastern city of Neyshabour city, on Wednesday.
"The US should realize that the pressure strategy is not effective with regard to Iran," he added.
"If the US does not try to continue mischief, then negotiation (with the US) will be possible, but the point is that Washington should have come to this point and decision," Mottaki explained.
Mottaki who served as foreign minister for five years is affiliated with the conservative camp.
His remarks came after Supreme Leader of the Islamic Revolution Ayatollah Seyed Ali Khamenei Supreme Leader of the Islamic Revolution Ayatollah Seyed Ali Khamenei last month questioned the US honesty in its offer of talks with Iran, and stressed that talks will be meaningless as long as Washington continues its hostile policy towards Iran.
"Through different ways and messages, the Americans try to negotiate with us on the nuclear issue, but I am not optimistic about these talks," Ayatollah Khamenei said, addressing Iranian people in Northeastern holy city of Mashhad at the time.
"I am not opposed to talks with regard to the nuclear issue, but certain issues must be clarified," the Leader said.
The Leader pointed to the US claim that they intend to be honest in their talks with Iran, and noted, "We have repeatedly asserted that we do not seek nuclear weapons but you do not believe this honest word; why should we accept your word?"
"Negotiation is an American tactic for deceiving the public opinion and if it is otherwise the Americans should prove it," the Leader stated.
He pointed to the talks between Iran and the Group 5+1 (the five permanent UN Security Council members plus Germany), and said that Washington does not want the talks to come to a conclusion.
"With regard to the nuclear issue, Iran only wants the recognition of its rights to enrichment."
The Leader noted that the US seeks to prolong the course of the negotiations in an attempt to "paralyze" the Iranian nation.
"Iran will never be crippled and if the Americans want the issue to be over, there is one simple solution which is the US should put aside its enmity with the Iranian nation."
The Leader pointed out that the enemy seeks to create hurdles through sanctions and threats and downplay Iran's achievements through propaganda, as its two major strategies against the Iranian nation.
"The center of conspiracy and the basis of hostility with the Iranian nation is the US administration," Ayatollah Khamenei noted.
The remarks by the Leader came after US President Barack Obama has laid the blame on Iranian leaders for sanctions imposed against the Islamic Republic over its nuclear energy program.
In a message on the occasion of Persian New Year, Obama claimed that Iran is "isolated" because of its failure to convince the world about the peaceful nature of its nuclear program. Obama said that Washington "prefers to resolve this matter peacefully, diplomatically."