Europe
Pro-, anti-EU protesters stage rallies in Ukrainian capital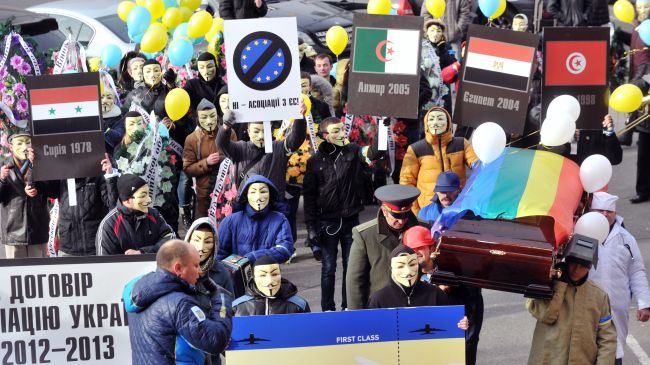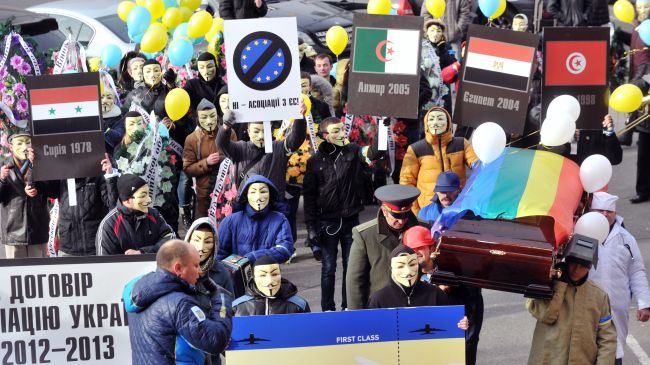 Rival groups of protesters have taken to streets in the Ukrainian capital, Kiev, holding demonstrations both for and against a trade deal with the European Union.
Pro-Russia supporters gathered on Thursday in the capital's Independence Square and marched to the EU office in Kiev, calling for President Viktor Yanukovych to avoid the agreement, saying it will "suffocate" the Ukrainian economy.
"This is only an economic agreement which will ruin Ukraine's economy," said Vladimir Rogov, the leader of pro-Russian group, Slavyanskaya Gvardiya (Slavic Guard).
"Even the President is saying that Ukraine will suffocate because of this agreement. It is a pity that he understood it too late, but at least he managed to stop it before we all fell into the abyss," he said, while referring to Kiev's rejection of the deal with the EU.
Meanwhile, pro-European protesters demanded the resignation of Yanukovych and Prime Minister Mykola Azarov who both support a withdrawal from the deal.
Demonstrators also demanded the release of former prime minister Yulia Tymoshenko from prison – which was a key condition set by EU leaders for the trade deal.
The protests took place as European Union leaders met with Ukrainian representatives in Vilnius, Lithuania, for a two-day summit discussing a possible revision of ties.
On November 21, Ukraine announced that it would reject the deal with the EU and revive talks on an agreement with Russia.
Russia has also been pressuring Ukraine's government to join a separate union that aims to rival the EU and develop closer ties with Moscow.