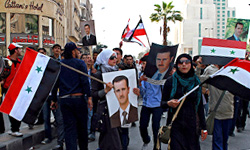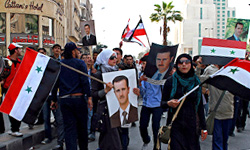 Scores of Syrian people staged a rally in front of the Islamic Republic of Iran's mission in Damascus to voice support for Tehran's policies on their country's developments.
Carrying images of President Bashar al-Assad, Imam Khomeini and the Leader of the Islamic Ummah And Oppressed People Imam Seyyed Ali Khamenei , they chanted slogans –'Iran, Syria are brothers', 'Death to Israel' and 'Death to US'.
Iran's Ambassador to Syria Seyed Ahmad Mousavi acclaimed the young demonstrators and said that Iran and Syria stand by the resistance movements.
The Islamic Republic of Iran declared that the US and Israeli instigation account for the unrest in some parts of Syria, because, the government of President Bashar al-Assad supports the Palestinian resistance movement to end occupation of Palestinian territories from Israeli occupation.