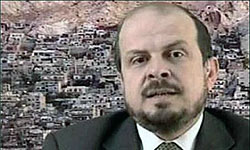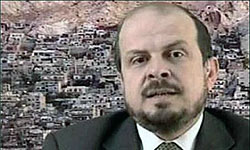 A prominent Syrian lawmaker cautioned that aliens have a plot to disintegrate Syria in a bid to guarantee Zionist regime's security since Damascus is a major supporter of resistance against Tel Aviv and Washington's moves in the region.
"The US and the security of the Zionist regime will be in much better conditions when there is no (ruling) system to support the (anti-Israel) Resistance," Mohammad Habbash told FNA.
He pointed to the age-old hostile policies of the US against Syria, and added, "The US regulates its Middle-East policies based on the Zionist regime's strategic interests, and thus, it has always acted as an ill-wisher of Syria."
He further pointed to anti-government protests in some parts of Syria in recent weeks, and warned that Washington plots to disintegrate Syria.
The lawmaker further dismissed the UN Security Council statement against Syrian President Bashar al-Assad's government, and underlined that the development in Syria is an internal affair that requires a domestic solution.
The Security Council ended weeks of bickering on Wednesday night to issue a statement deploring President Bashar al-Assad's government for its choice in resolving Syria's internal problems.
The Security Council statement is non-binding and cannot therefore be used as a platform to impose sanctions on the Syrian government.
Syrian official have always said that the West is seeking to spark and support unrests in Syria in a bid to force Damascus to put an end to its support for anti-Israel resistance in the region.
Damascus has reiterated support for Palestine, Palestinians' right of return to their homeland and establishment of a Palestinian state.
The West wants Syria to withdraw its support for the Palestinian cause and cut its ties with friendly countries like Iran.
Meantime, reports from inside Syria had disclosed that the western countries and media outlets are doing their best to spark tension in the Arab country in an attempt to topple Bashar al-Assad's government and push pro-western figures to power.
In one of such reports, 25-year-old Zakaraiya Mitleq from Syria's Homs province revealed how he was recruited as an eye witness to appear on some biased satellite channels to falsify facts and fabricate stories and news with the aim of distorting the truth in Syria and harming the image of the Syrian security forces.