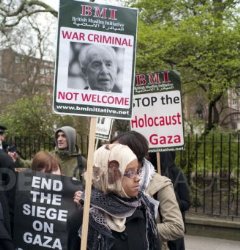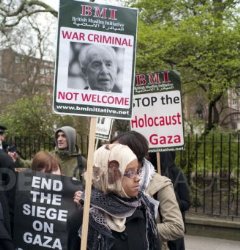 Peace campaigners and Palestinian supporters held a protest in central London Wednesday to denounce Israeli President Shimon Peres as a war criminal and to demand his prosecution for human rights violations in Palestine.
The demonstration was held outside the Royal Institution of Foreign Affairs at Chatham House, where Peres was speaking at a one-day conference on Sixty Years of British-Israeli Diplomatic Relations, which Foreign Secretary William Hague was also attending.
It was supported by Friends of al-Aqsa and the Palestine Solidarity Campaign as well as other peace organisation.
Peres is the ninth Israeli president and has also served twice as prime minister and been a member of 12 cabinets in a political career spanning over 66 years.
Others speaking at the conference include chair of Israel's National Security Council, Uri Arad who has previously been banned from entering the US and is expected to become Israel's next ambassador to London.
This week, British MPs are expected to vote in favour of a controversial amendment to universal jurisdiction to make it more difficult for Israeli leaders to be arrested for war crimes when visiting the UK.