Palestine
Protesters attacked, arrested as thousands rally outside Netanyahu residence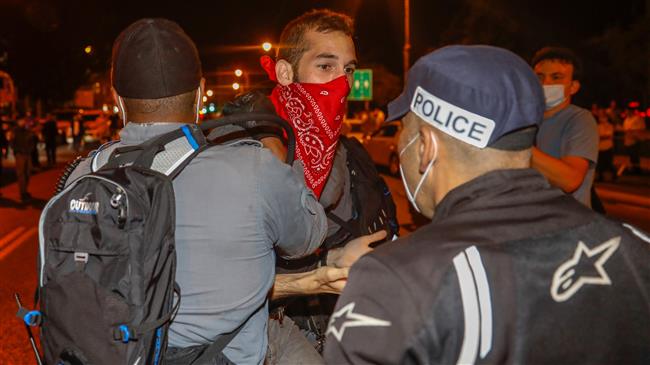 Israeli forces have used water cannons to disperse thousands of demonstrators rallying near the residence of prime minister Benjamin Netanyahu in Jerusalem al-Quds and made many arrests.
Scuffles broke out in the early hours of Friday when security forces pushed demonstrators back.
Wearing protective masks, protesters held up signs and chanted for the five-term premier to step down, angered over Netanyahu's handling of a worsening coronavirus crisis and corruption.
Public anger has been fueled by corruption charges against Netanyahu, who went on trial in May for bribery, fraud and breach of trust.
Protesters carried signs that read "Stopping the plague of dictatorship" in reference to Netanyahu during the Thursday night rally, while others described him as "a fatal plague".
Some of the protesters yelled "Justice for Iyad," in reference to the 32-year-old autistic Palestinian man Iyad Hallaq who was shot dead by two Israeli forces in the Old City of Jerusalem al-Quds in May.
Tamar Shneck, one of the protesters at the rally on Thursday night, accused Netanyahu of "taking advantage of the coronavirus for power," and said he was trying to increase his authority by leveraging the health crisis.
"You can see that he's continuing to do so. You can see that he's always stripped Israel of its democratic powers," she said.
The organizers said in a statement, "Thousands of young people that are coming out to protest are not victims of the coronavirus — they're victims of the corruption of Benjamin Netanyahu."
Amir Haskel, a former Israeli air force general who has turned into a prominent figure in the anti-Netanyahu protests, said, "Tonight's protest is a protest of young people. We expect very many of them and hope that the protest ends without violence."
By the end of the protests, 55 people were arrested by the police, media reports said.
Netanyahu dismissed as "absurd" reports that he intends to trigger new elections in November, but warned the polls would indeed be unavoidable if his coalition administration failed to pass a national budget next month.
"I'm not aiming for [early] elections. That's absurd," he said. "We are in the midst of the coronavirus crisis. We have to deal with it. We also have to pass a budget. It can pass in a minute… or a very short time."T
Israeli daily newspaper Haaretz reported on Wednesday that Netanyahu has decided to seek another round of elections after the district court in Jerusalem al-Quds ruled last week that witnesses would begin testifying in his corruption trial in January, with hearings to take place three times a week.
The Israeli prime minister reportedly fears that petitions to the so-called high court of justice will force him into resignation, and that attorney general Avichai Mandelblit will back such a stance.
Netanyahu's remarks came soon after two new TV surveys were released, showing his right-wing Likud party would have to concede to defeat if elections were held today – to far-right Yamina opposition political alliance headed by Naftali Bennett.
Channel 12 and Channel 13 surveys showed that whilst the popularity of Netanyahu's Likud is slipping, Bennett's Yamina is rising fast amid widespread public dissatisfaction with the coalition's handling of the coronavirus crisis.
Unemployment in the occupied territories stands at some 21 percent — or 850,000 people — and is rising. Coronavirus restrictions have further battered the economy.