Europe
North America
Protesters in London will rally outside Foreign Office against US warmongering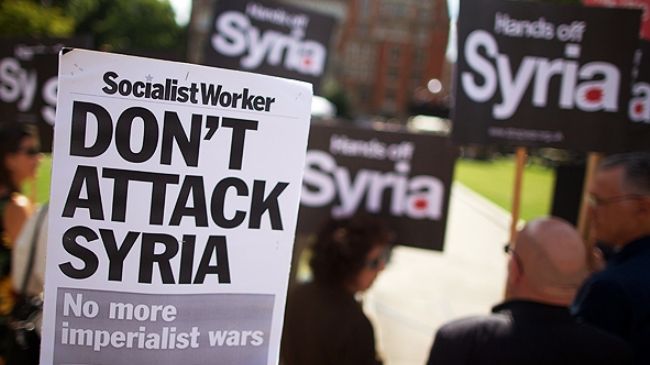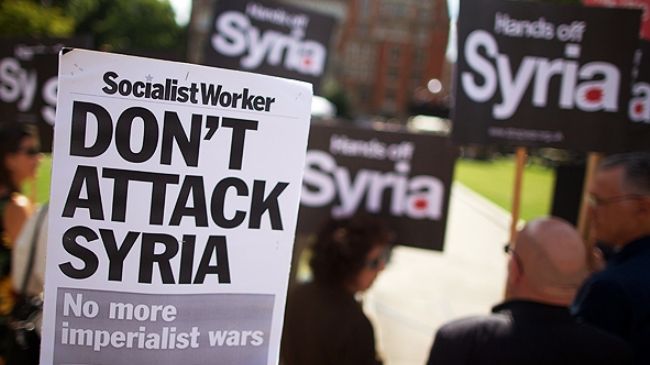 Anti-war campaigners will hold an "emergency" protest against the US warmongering on Syria as the American Secretary of State meets his British counterpart in London on Monday.
The Stop the War Coalition said they will protest outside the Foreign Office at 08:00 am, when John Kerry will be meeting his host William Hague in Whitehall, to "tell Kerry that the world says no to war on Syria".
Kerry's London visit is part of a tour of Europe in a bid to drum up backing for Washington's push for a hugely unpopular and illegal war on Syria.
British MPs rejected their government's involvement in a likely US-led military intervention in Syria in a vote on August 30, effectively making Washington lose a key partner to its wars in the Middle East.
The Stop the War Coalition said the likely attack "is opposed by majorities in most countries".
"Two thirds of Americans say no to war. Close to 75% of people in Britain are opposed, which no doubt was what motivated MPs in parliament to stop [British PM] David Cameron taking this country into yet another war in the Middle East on the coat-tails of US foreign policy," the leading British campaign group said.
The group added Washington's push should be resisted after US president Barack Obama found himself "isolated" at the recent G20 summit in Russia where only Paris "was prepared to commit to a military attack on Syria".
"The attack Barack Obama is planning is illegal under international law without the backing of the United Nations Security Council. It will not help to solve the civil war in Syria … but will only further inflame the conflict, as we have seen happen in all the US-led interventions in the region over the past decade — in Afghanistan, Iraq and Libya," the Stop the War said.
"What is needed in Syria is not more devastation and death at the end of a barrage of US Cruise missiles, but serious moves towards a negotiated political settlement," it added.
The group has also launched a petition campaign with the cooperation of a number of British MPs to call on the US congressmen to reject the war in an upcoming vote on Obama's military option on Monday.