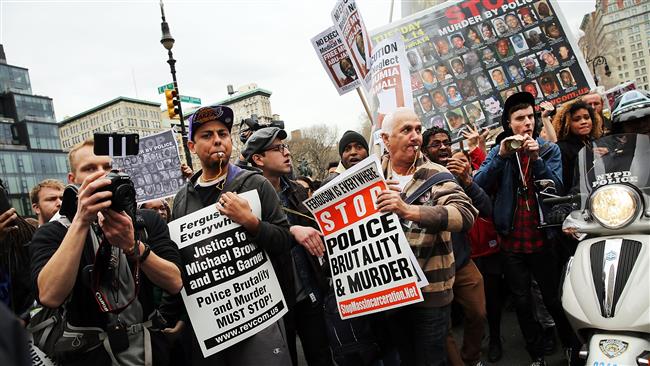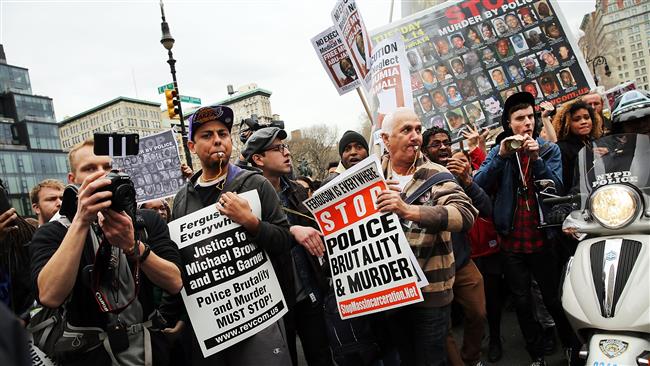 A large number of protesters have taken to the streets in New York to voice their anger against police brutality, demanding action against officers involved in the 2014 death of Eric Garner.
The protesters marched from the New York Police Department headquarters in Manhattan to the federal courthouse in Brooklyn on Friday night.
Garner, a 43-year-old African American, was choked to death by the police using the banned choke-hold technique during his arrest on Staten Island on July 17, 2014.
According to the medical examiner's office, the cause of the death was "compression of neck (chokehold), compression of chest and prone positioning during physical restraint by police."
However, New York's grand jury decided not to charge officer Daniel Pantaleo.
The demonstrators on Friday night chanted slogans against police brutality and racial discrimination. They held placards with messages such as "Black Lives Matter."
The chokehold death of Garner, a father of six and grandfather of two, was recorded on videos that have been widely seen and have contributed to the public outrage.
In the video, Garner repeatedly told police officers "I can't breathe! I can't breathe!"
The US has recently been confronted with a series of images of police brutality, where unarmed black men have died after encounters with police.
Large-scale demonstrations were held across the US after a series of high-profile incidents of white police officers killing unarmed African American men, including Michael Brown in Ferguson, Missouri; Tamir Rice in Cleveland, Ohio, and Walter Scott in North Charleston, South Carolina.
The recent unrest in Baltimore over the death of Freddie Gray was the most violent in the United States since the protests in Ferguson following the fatal shooting of 18-year-old Brown by a white police officer.