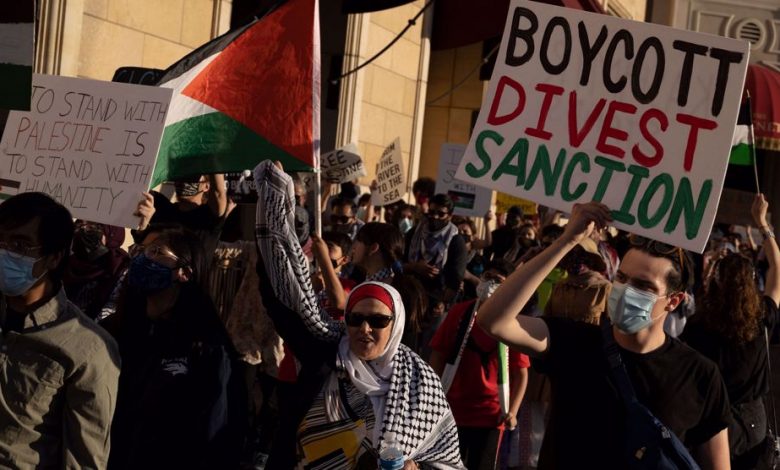 Protesters have taken to the streets in major US cities to condemn Israeli airstrikes over the Gaza Strip as the escalation continues in the occupied territories.
Thousands of people rallied on Saturday in Los Angeles, New York, Boston, Philadelphia, Atlanta and other cities to demand an end to Israel's atrocities.
This comes as the Israeli regime's relentless aerial bombardment of the besieged Gaza Strip continued for its sixth consecutive day on Saturday. So far, 174 Palestinians, including 47 children and 29 women, have been killed and 1,100 others wounded.
Israel has ramped up its military aggression to include artillery and tank fire. The escalation has fed fears of a return to a long-term war between Israeli regime and Palestinian groups. Israeli warplanes struck multiple targets in Gaza on Saturday night while Palestinian resistance in response, fired rockets into occupied lands by Israel.
The fresh marches in US cities coincided with Nakba Day, or the day the occupation of Palestine began 73 years ago, when 750,000 Palestinians were expelled from their lands with the aim of creating the illegitimate state of Israel.
The demonstrators shut down traffic on a major thoroughfare in west Los Angeles as they marched two miles from outside the federal building to the Israeli consulate, waving signs that said "free Palestine" and shouting "long live intifada," or uprising.
In New York, a protest began in a neighborhood in the Bay Ridge neighborhood of Brooklyn, which has a large Arabic-speaking community, and continued through the streets for several hours on Saturday afternoon.
Protesters climbed up the poles of street lights to wave flags while others set off fireworks, according to footage on social media.
In Atlanta, hundreds of demonstrators, including grandparents, teenagers and mothers and fathers with youngsters, gathered downtown, waving signs and chanting slogans, according to the Atlanta Journal Constitution.
One sign read, "We can't breathe since 1948" — a hint at the racial injustice and US police brutality demonstrations across the country during the past year over George Floyd's death in police custody, the newspaper reported. Floyd died on May 25 last year in the northern US city of Minneapolis after a white police officer pressed his knee on his neck for nearly 10 minutes as he continually gasped, "Please, I can't breathe."
In San Francisco, protesters marched across the Mission district to Dolores Park as a crowd banged drums, shouting "Palestine will be free."
Boston protesters also walked a short distance from Copley Square to the Israeli Consulate for New England, shutting down traffic.
Demonstrators unfurled a banner in the colors of the Palestinian flag with the words "Free Palestine" written on it while standing on top of the awning of the building where the consulate is situated, video footage showed.
Thousands of protesters In Washington marched from the Washington Monument to the National Archives.
In Philadelphia, demonstrators assembled in Rittenhouse Square to condemn US support for Israel.
In Pittsburgh, one speaker urged lawmakers to impose restrictions on how Israel can spend 
Similar protests were also held last week in Washington D.C., New York City and Los Angeles.