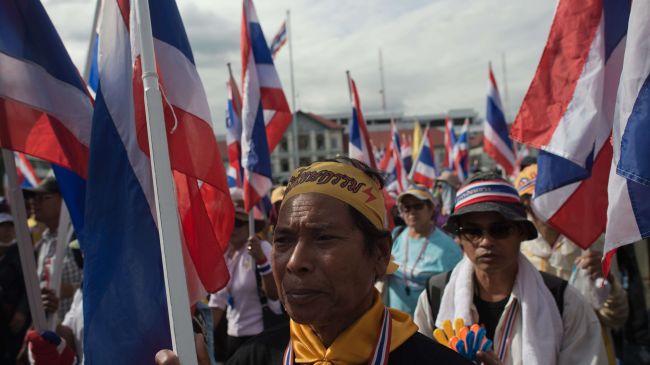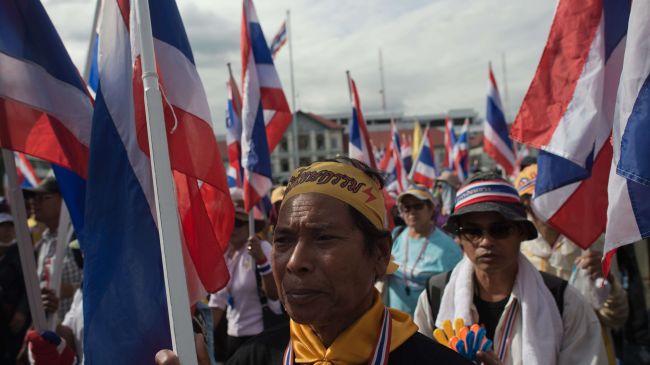 Anti-government protesters have marched on main state communications targets in Bangkok in an effort to bring down the government of Prime Minister Yingluck Shinawatr.
Protesters condemn the government of Yingluck, who is the sister to former Premier Thaksin Shinawatra – a telecommunications tycoon ousted in a 2006 coup. Thaksin is said to be the power behind the current government and he has lived in a self-imposed exile since his ouster.
On Saturday, demonstrators started surrounding offices of Telephone Organization of Thailand (TOT) and Communications Authority of Thailand (CAT), which are two key state telecoms firms.
"We will control the area, like we did at the finance ministry, and ask staff not to work. So on Monday everything will shut down," rally spokesman Akanat Promphan said.
However, the ICT ministry said that back-up systems are working and communications in the country would not be affected.
Government buildings have been surrounded by thousands of angry protesters in recent days.
On Friday, demonstrators forced open the gates of the army headquarters in the capital. They also gathered in front of the headquarters of Puea Thai party, which is led by Yingluck.
Protesters have called Sunday a "day of victory" as they plan to assemble near the heavily-guarded Government House and besiege more important buildings. They also seek to tighten their blockade of government ministries.
Meanwhile, pro-Thaksin demonstrators plan to hold a rally over the weekend as nearly 20,000 people gathered in a stadium in Bangkok early Saturday.
The protests in Thailand erupted when the Thai senate on November 11 rejected a government-backed amnesty bill that could have extended a pardon to Thaksin and pave the way for his return to the country.