World News
Protesters rally against general prosecutor, ask him to resign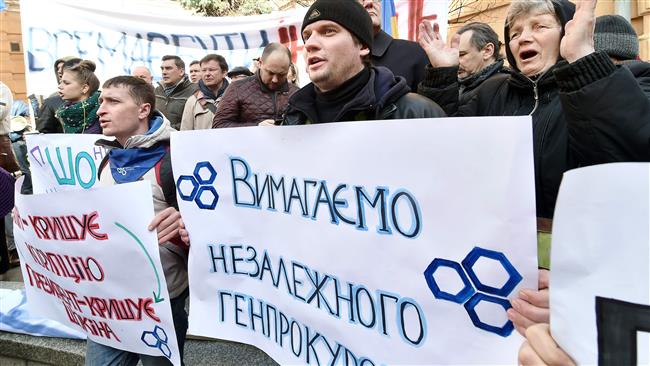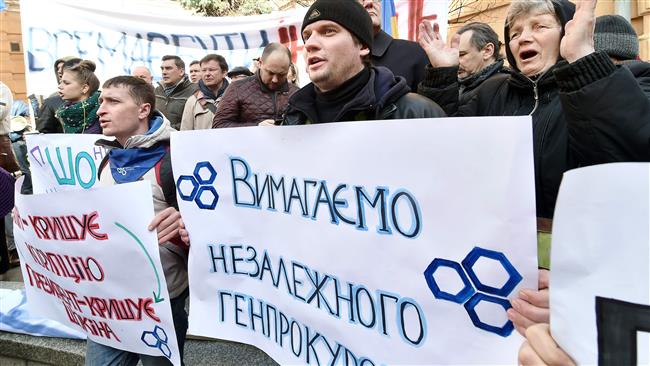 Hundreds of people have staged a rally in the Ukrainian capital, Kiev, demanding the immediate resignation of the country's General Prosecutor Viktor Shokin.
About 500 people gathered outside the administrative headquarters of Ukraine's president's office on Monday, urging Shokin and other officials involved in corruption cases to resign.
Several members of the parliament also attended the rally. The demonstrators held up banners reading, "We demand an independent prosecutor's office."
Calls for Shokin's resignation gained fresh momentum after a Kiev court gave his office full rein to investigate one of its toughest critics the Anti-Corruption Action Center, over claims that the body embezzled USD 2.2 million in aid. The center has called the charges politically motivated.
Shokin has reportedly submitted a letter of resignation to the parliament, apparently under pressure from President Petro Poroshenko, who has seen his public approval ratings fall dramatically over the past months. Lawmakers are expected to accept the letter on Tuesday although reports in the local media suggest that there are not enough votes in parliament to approve his dismissal.
Poroshenko appointed Shokin as general prosecutor in February 2015. The judge is accused of failing to probe the alleged theft of state funds by the Russian-backed leadership of Ukraine, which was deposed in the wake of mass demonstrations at Kiev's Maidan Square in 2014.
"The Maidan (revolution) is not over," said an activist during Monday rally, adding, "We have to push further … They (the authorities) fear nothing but the street."