Protesters, security forces clash near Presidential Palace in Cairo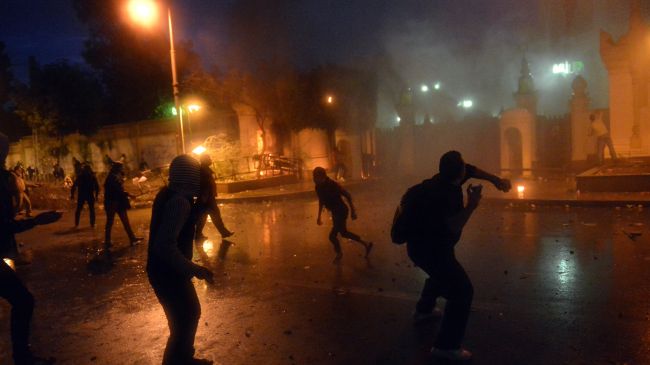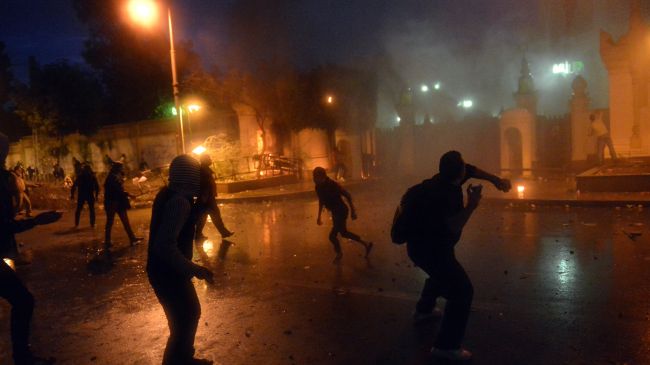 Egypt's security forces have clashed with opposition protesters near the Presidential Palace in Cairo, after demonstrators attacked the premises with stones and petrol bombs.
The security forces used water cannon and fired shots into the air on Friday to disperse the protesters who had gathered outside the palace walls and called for the downfall of the government of President Mohamed Morsi.
Earlier on Friday, Egyptian police clashed with dozens of protesters on a main road outside the capital's Liberation Square and near the US and British Embassies.
Witnesses said police also fired birdshot at the demonstrators, wounding at least two people.
Security forces have blocked off most of the roads with concrete walls to prevent protesters from approaching government offices.
The violence came amid demonstrations held in Cairo and several other major cities against Morsi, who is accused by his opponents of monopolizing power and betraying the 2011 revolution that toppled dictator Hosni Mubarak.
The protests follow a week of unrest which started when 21 Egyptians were sentenced to death over a football-related violence in 2012. Some 56 people, mostly in the northeastern city of Port Said, were killed in the violence.