North America
Protesters shout down white nationalist speaker at University of Florida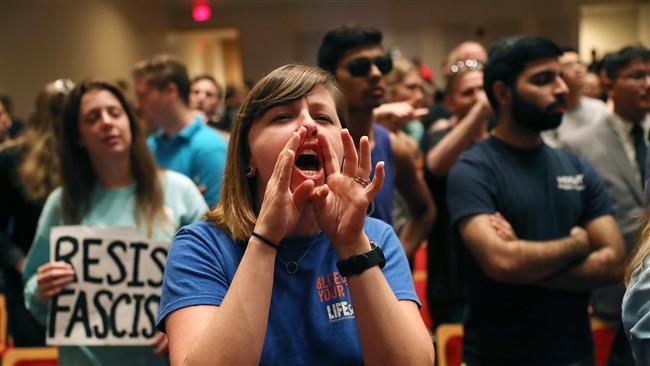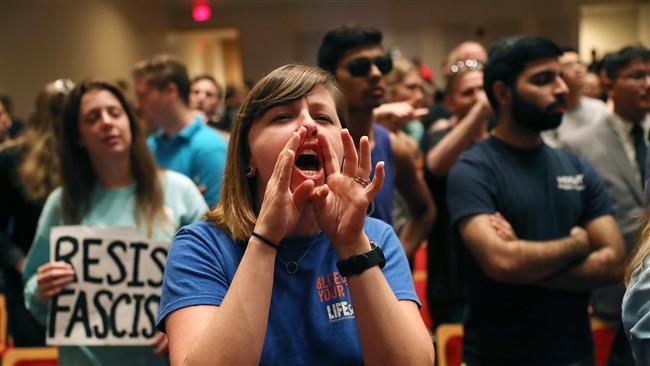 Hundreds of protesters have shouted down white supremacist leader Richard Spencer at a university in Florida, forcing him to leave the stage without delivering his planned speech.
As Spencer stepped onto the stage Thursday at the University of Florida in Gainesville, he was greeted with a chorus of angry and profanity-laced jeers and chants, drowning out his voice.
Protesters stood up, raising their right hands into fists and chanting "Go home Nazis" and "No more Spencer! No more Spencer!"
Several hundred protesters also marched outside a campus performing arts center where Spencer spoke, shouting "We don't want your Nazi hate."
Two protesters were arrested, including a man hired as security for media.
"There were a few scuffles, but for the most part it was an extremely peaceful event," said Chris Sims, a spokesman for theGainesville sheriff's office.
Inside the venue, Spencer and protesters yelled at one another, and he criticized them for trying to suppress his speech.
"I'm not going home," said Spencer, who heads the National Policy Institute, a nationalist think tank. "We are stronger than you and you all know it!"
He appeared to have few supporters in the crowd. Only around 30 supporters of the controversial white nationalist made it into the University of Florida auditorium, massively outnumbered by protesters.
Spencer left the campus soon after the event ended.. Police worked to separate those who attended the event as they left the venue from protesters gathered nearby.
Hundreds of police officers were deployed at the university. The streets surrounding the university were blocked off to traffic and classes were canceled.
State officials are so fearful of disturbances that Florida Governor Rick Scott declared a state of emergency Monday ahead of Spencer's speech.
Spencer has gained notoriety as a leader of the "alt-right" movement, a loose collection of neo-Nazi and white supremacist groups that took part in the violent Charlottesville protest in August.
A 32-year-old woman was killed when a white supremacist plowed his car into counter-protesters, and two police officers died in a helicopter crash as they were responding to the violence.
The rally sparked a national debate on race, and US President Donald Trump caused a nationwide firestorm for blaming both sides for the violence.
The Southern Poverty Law Center, which monitors US hate groups, said Spencer is "a radical white separatist whose goal is the establishment of a white ethno-state in North America."