North America
Protesters stage rally in New York City against hate crimes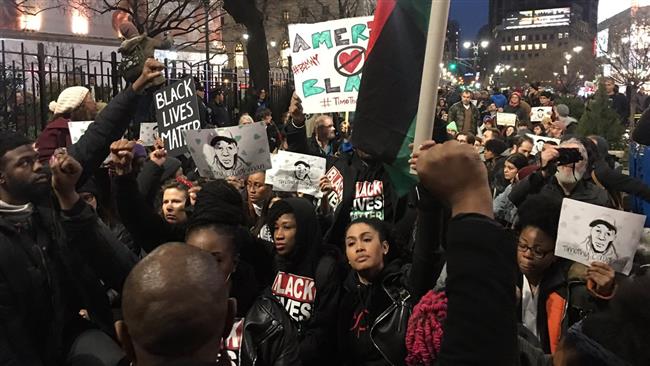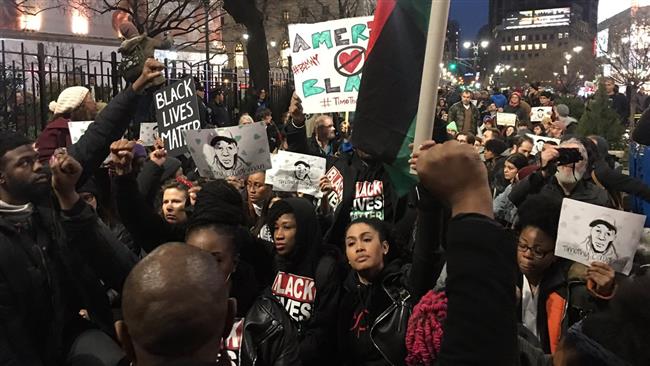 Hundreds of US protesters have taken to the streets of New York City voicing anger over the increasing incidents of hate crimes in the country, including the murder of a black man by a white supremacist last week.
About 300 protesters marched on Friday night in Manhattan and condemned the stabbing death of Timothy Caughman by white military veteran James Jackson.
"All across NYC!" and "Resist white supremacy!" they chanted. "Say his name!" they yelled. "Timothy Caughman!"
Jason Walters, an activist with the group Vocal New York and one of the speakers at the march, said he believed that the Caughman's killer was in part emboldened by President Donald Trump who had "set a tone of white supremacy and nationalism" in America.
"White folks now have felt encouraged and emboldened to take steps to target folks that look like me," Walters said. "Our American system is to blame. It's not just the person that plunged that knife into his black body."
"Timothy was killed by a white supremacist, by a white terrorist," Nelini Stamp, a member of the progressive social justice group Resist Here, told the crowd.
Jackson, 28, killed Caughman on Monday by plunging a sword into the 66-year-old's chest. A bleeding Caughman staggered into a police station and later died at a hospital.
Jackson surrendered to the police on Wednesday and took responsibility for the murder.
"His intent was to kill as many black men here in New York as he could," prosecutor Joan Illuzzi said. "The defendant was motivated purely by hatred."
Hate crimes in the country have seen a sharp rise after the new US president came to power two months ago.