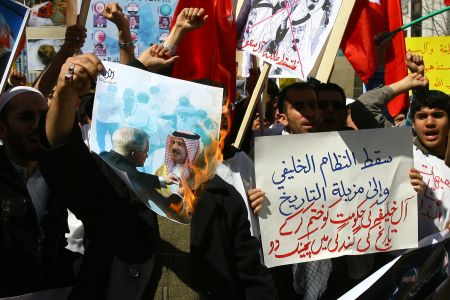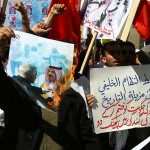 Thousands of people in the region turned out to protest the crimes taking place in Bahrain and the brutal crackdown of anti-regime protesters there.
However, the most remarkable protest in this context took place in Saudi Arabia itself, where tens of protesters gathered in the cities of Sbehat and Qatif to denounce the massacre taking place in Bahrain. While protesters also called for the release of political detainees in the kingdom, security forces have reportedly been put on high alert.
Protests in condemnation of the Riyadh-led military deployments to Bahrain have also reached the Islamic Republic of Iran, as hundreds of Iranians held a rally outside the Bahraini Embassy in Tehran to condemn Saudi Arabia and the UAE's invasion of the Bahraini state. The Iranian protesters carried placards with slogans against the military intervention and condemned the violent crackdown on anti-government protesters that seek a constitutional monarchy as well as political reforms in Bahrain. They also held a similar gathering in front of the Saudi Arabian Embassy in Tehran.
In Turkey, human rights activists protested outside the Saudi Arabian Embassy in Ankara against the deployment of Saudi forces into Bahrain.
Meanwhile, hundreds of Iraqis poured into the streets in the holy city of Karbala to rally against the deployment of troops from Saudi Arabia and its Arab allies to Bahrain. The protesters marched towards the holy shrine of third Imam, Imam Hussein (PBUH). They were carrying Bahraini flags, chanting slogans against Riyadh and the Al Khalifa regime in Bahrain.
Syria has also slammed the military deployments to Bahrain and sent Foreign Minister Walid Moallem to Tehran for consultations over the situation in the Persian Gulf kingdom.