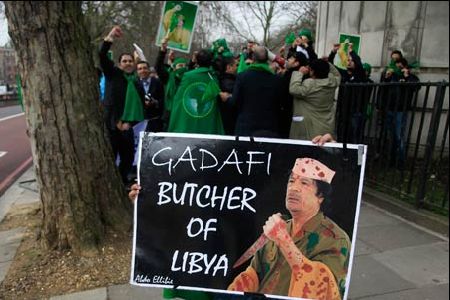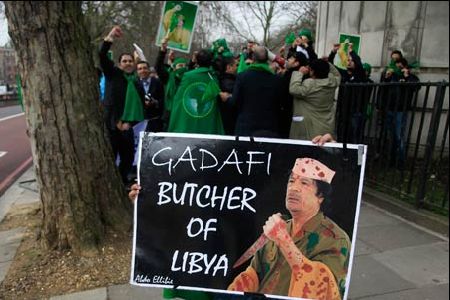 Gunshots have rung out in the Libyan capital, Tripoli, where anti-government protesters staged rallies against the crumbling regime of Libya's ruler Muammar Gaddafi.
Tripoli residents demanding Gaddafi's downfall held rallies after the Friday prayers in the capital, where they were met with pro-Gaddafi forces that used teargas to disperse the crowd.
"They fired teargas. I heard shooting. People are scattering," a Reuters reporter at the scene of the protests in the east of the Libyan capital said.
Reports indicate that Gaddafi's secret police waited outside mosques as demonstrators began to call for an end to the ruler's 42 years of autocracy.
Pro-regime forces unleashed the gas and baton rounds to suppress the anti-government protests.
Meanwhile, the regime's troops kept a heavy military presence on main roads around the capital, where pro-Gaddafi forces have been searching cars at numerous checkpoints.
In the Libyan city of Benghazi, which is under the protesters' control, a massive rally was held after the day's prayers.
Clashes also erupted in the town of Zawiyah and the oil port of Ras Lanuf, with reports of heavy casualties after the regime unleashed fire on anti-government protesters in an area near the oil port of Ras Lanuf.
Libya's revolutionary forces have vowed to continue with their rallies until achieving victory.
The Libyan situation continues to dominate the world oil markets. The uprising in the oil-rich North African nation has increased crude prices worldwide.
New York's light sweet crude for April delivery, known as West Texas Intermediate, rose 72 cents to reach above 102 dollars a barrel.
Libya produces over one and a half million barrels of oil a day. About 85 percent of Libya's oil goes to Europe.