Palestine
Protests in WB, Gaza on Balfour Declaration anniversary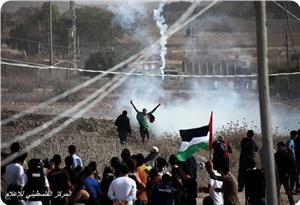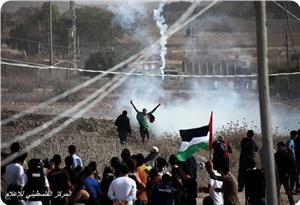 Thousands of Palestinians and a number of international activists protested on Friday afternoon in different parts of occupied West Bank and Gaza Strip on the 96th anniversary of Balfour Declaration.
The protests witnessed violent clashes with the Israeli occupation forces (IOF) that fired live bullets and tear gas bombs. A number of injuries were reported among the protesters.
In Gaza, the participants managed to raise the Palestinian flag on the border fence before the Israeli army opened fire on them and at Palestinian houses in Shojae'ya neighborhood.
Nearly 16 Palestinian youths were treated for breathing problems during the demonstration against Balfour Declaration due to the IOF firing of teargas at them, medical sources said.
In West Bank, IOF closed Beta town's entrance, southern Nablus, after a Molotov cocktail was tossed at a settler's car.
Violent clashes erupted in different parts of West Bank cities and towns between Israeli soldiers and Palestinian youths resulting in a number of arrests among the protesters.
PIC correspondent reported that three Palestinians were injured during clashes in Bil'in village, west of Ramallah, after IOF soldiers raided the town and fired rubber bullets and tear gas bombs, causing dozens of suffocation cases.
Hundreds have also protested outside Ofer prison, south of Ramallah, where clashes were reported between the protesters and IOF troops, a PIC reporter said, adding that two Palestinian young men were injured with rubber bullets.