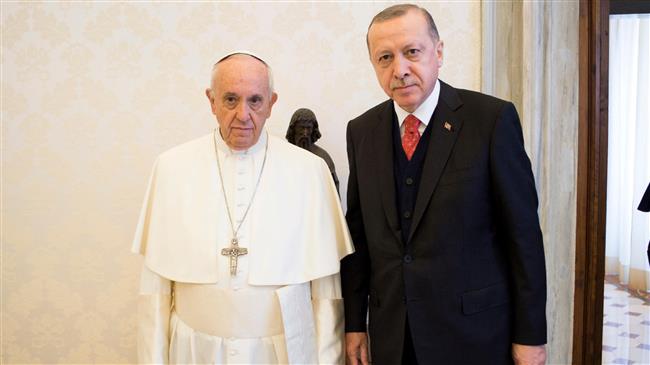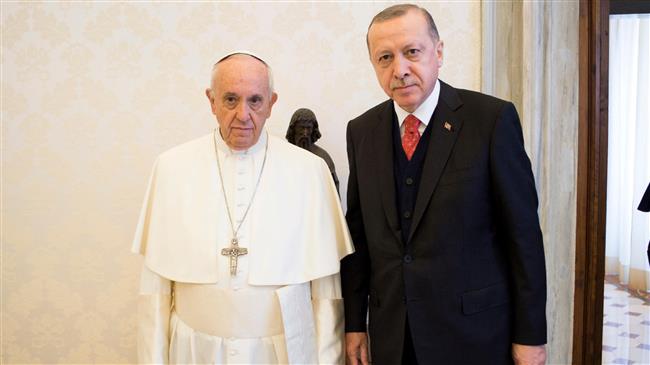 As Erdogan is on an official visit to Rome, some 150 Kurdish and Italian protesters clash with police officers in front of the Vatican after the demonstrators staged a rally to express their opposition to Turkey's military operation in Syria's northwestern region of Afrin.
Police have put much of the center of the city under lockdown for the visit, the first by a Turkish president to the Vatican in 59 years.
According to the police, two people were arrested in the authorized demonstration outside nearby Castel Sant'Angelo, a fortress on the banks of the River Tiber, after it turned violent when police pushed back shouting and shoving protesters who tried to break through cordons to get closer to the Vatican.
Some 3,500 police and security forces were on duty in Rome and authorities declared a no-go area for unauthorized demonstrations that included the Vatican, Erdogan's hotel and Italian palaces.
Turkey has been pressing ahead with the so-called Olive Branch operation against militants from the Kurdish People's Protection Units (YPG) in Afrin since January 20.