India
Asia-Pacific
Human Rights
Protests over hijab ban in schools spread across India
Demonstrators have rallied in Jaipur city over the hijab ban in the southern state of Karnataka, as the backlash over restrictions on the Muslim head covering in schools intensifies across India.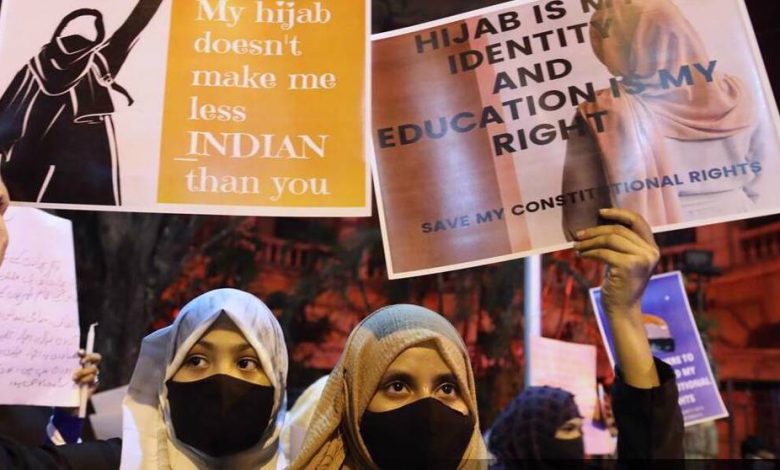 Protesters on Saturday came out on the streets of Jaipur in Rajasthan state with posters and chanted slogans, condemning the government for banning the hijab in schools and colleges.
The angry protest came after a private college in Chaksu stopped some girls Friday from attending their classes after they showed up wearing the hijab.
Last week, several colleges in Karnataka had denied entry to Muslim girls wearing the hijab in Udupi citing an education ministry order, prompting protests from parents and students.
The Karnataka High Court, in an interim order, has restrained all students, regardless of their religion or faith, from wearing saffron shawls, scarfs, hijab, religious flags, or the like inside classrooms.
Udupi is one of the three districts in Karnataka's religiously sensitive coastal region, which is a stronghold of Prime Minister Narendra Modi's right-wing Bharatiya Janata Party (BJP).
The hijab ban has galvanized fears among the Muslim community about what they say is increasing persecution under the Hindu nationalist government.
Opposition parties accuse the BJP government at federal and state levels of discriminating against religious minorities. Critics say Modi's election in 2014 emboldened hardline extremist groups that view India as a 'Hindu nation' and consider its 200-million-strong Muslim minority as a foreign threat.
Muslims across India complain of falling victim to government-sanctioned harassment and hate crimes by extremist Hindu elements as well as regulatory policies of a discriminatory nature.